Requirements
Need to add a file to a ticket? Take care to follow these guidelines:
Your attachment cannot exceed 7.5 MB in size.
We will need both your drawing file and the correct Land F/X project. Make sure the correct drawing, Land F/X project, and Preference Set are open before completing the following steps.
Important Note: We cannot diagnose your issue without the appropriate .lfx data files – your Land F/X project and Preference Set. It's extremely important that you also verify that you've included these items in the Zip file you send us, along with your .dwg drawing. We ask that you use our Support tool to send in your drawing and project. This tool automatically creates a zip file of everything we'll need in order to address your technical support issue.
Using our technical support system to make your zip file will ensure that you are sending us all the files we need in order to address your issue. It's important that you use our system to make your zip file but that you attach the Zip file to your original ticket. This will prevent confusion in our ticket system and help us address your issue as quickly as possible.
How to send us your files:
Step 1: Make a zip file of your drawing and your Land F/X project using our technical support system
Before you can complete these steps, you'll need to make sure you've saved your drawing and that you have the correct Land F/X project open.
For us to diagnose your issue, we absolutely need the Land F/X project associated with the drawing you're sending. Make sure you have the project open when completing these steps. Not sure? Open the Project List tool and make sure you have the correct project open.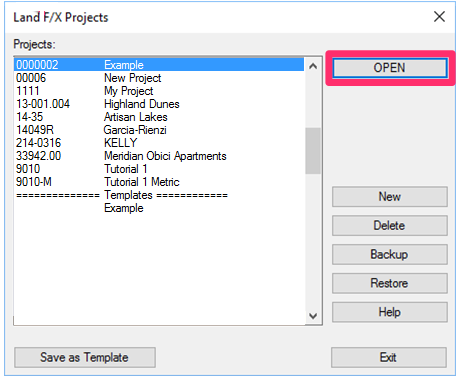 Open our Support tool:
F/X Admin ribbon, Support flyout
Several toolbars
(F/X Admin toolbar pictured)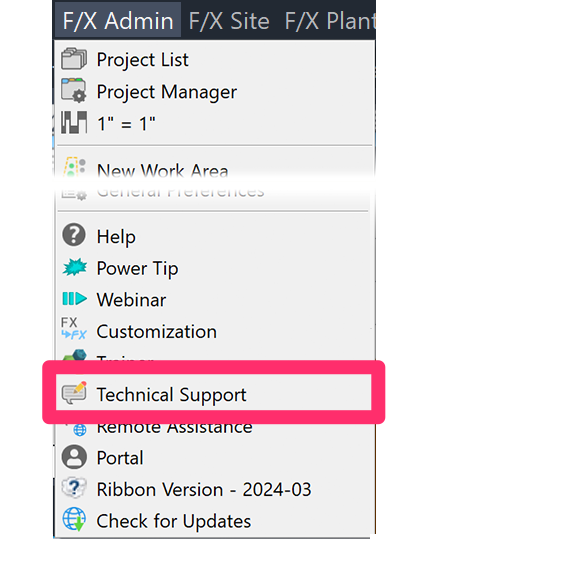 F/X Admin menu
or type FX_TechSupport in the Command line
Seeing an Automation error message at this point? Or is the Tech Support tool simply not working? Here's what to do.
You'll be asked whether you want to Copy the DWG to the Desktop, so it can be uploaded to the Technical Support team?
Click Yes to copy the DWG and the associated Land F/X project to the desktop so you can upload it into our technical support system.

If you haven't saved your drawing, you'll be prompted: Drawing must be saved in order to eTransmit it. Save the drawing now?
Click Yes to save the drawing and Land F/X project.
If you see a message beginning with This drawing contains custom objects that are not supported in previous versions, just click Close to continue. We will be able to open your drawing.
You'll be notified that The current DWG, all applicable XREFs, and any project data has been copied to the file 'LandFX Export.zip' on the Desktop.
This file will include the Land F/X project data you have used in the drawing, as well as the Preference Set associated with the project.
At this point, a browser window will open, and you will be directed to our ticket system. Close this window.
You can now move on to Step 2: Send the zip file to Land F/X.