Issue
AutoCAD or F/X CAD is freezing or crashing when you open a drawing that contains gradients.
You may experience this issue in the following instances:
Cause
AutoCAD and gradients sometimes simply don't play well together, which may require removing gradients from a drawing and changing them into solid colors.
The Color Render tool can also cause slowness when turned on during the design process.
Solution
You can remove gradients and replace them with solid colors using the AutoCAD Block Editor and Hatch Edit tools.
Blocks and Concept Lines
Select an item that contains a gradient. In this example, we'll remove the gradient from the following Concept line.
With the object selected, right-click it. Then select Block Editor from the menu that opens.
The Block Editor will open.
If you're editing a Concept Line, you'll need to select one of the dashes or dots, and then right-click to select the Block Editor again.
.
You'll now see a closeup of one of the dots or dashes that make up the Concept Line, as shown below. Click within the gradient to open the Hatch Editor.
The Hatch Editor will open. Select a solid color or a pattern to replace the gradient.

If you select the Solid option as shown above, you'll need to select a new color. To select a color you've used recently, locate and select it from the Recent Colors section of the menu shown below: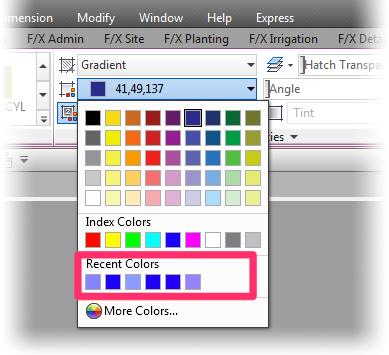 Why do you need to use the Hatch Editor when you're trying to edit a block? Because any area within a block that contains a color, gradient, or pattern is actually a hatched area. So you're essentially editing a hatch within a block. In the case of a Concept Line, you're editing a hatch within a block within a block.
You'll also need to repeat the steps shown above to select a pattern, solid fill, and/or color for each of the arrows at the ends of a Concept Line.
Close the Block Editor by clicking the Close Block Editor button. Save your changes when prompted.
Save your drawing. It should act faster at this point.
Hatches
To remove a gradient from a hatched area, such as a Site Development or Schematic Irrigation area, select that hatch area, then right-click. Select Hatch Edit from the menu that opens.
The Hatch Edit dialog box will open. Select either the Hatch or Gradient tab, then select a new color or pattern for the hatch. You can also try selecting One Color under the Gradient tab and see whether it speeds up your drawing performance.
Click OK, and save your changes.
Color Render
Gradients generated by the Color Render tool can also cause slowness in CAD. To alleviate the issue while designing, simply turn off Color Render.
You can then enable Color Render again when ready to plot or present.