AutoCAD is a resource-intensive program. Without optimizing your computer, AutoCAD or F/X CAD can experience errors and crashing issues. In response, we have provided several steps that we've found extremely helpful in reducing the instances of slowness, crashing, or freezing.
The following tips will help your CAD installation in good shape and, if all goes well, prevent it from crashing. If AutoCAD does freeze or crash, see our AutoCAD Freezes or Crashes page for potential causes and solutions.
1. Reboot your computer every day.
We have found the memory leak to accrue from the point of restarting the computer – so even though restarting AutoCAD does seem to remedy it for a short while, the best solution is to be sure to completely shut down the computer, which should keep errors to an absolute minimum.
2. Check for a common Internet Explorer error.
AutoCAD or F/X CAD freezing on startup? Here's what to do.
3. Disable the AutoCAD InfoCenter
AutoCAD InfoCenter runs in the background and communicates with Autodesk. We've found that disabling this application can increase your CAD performance.
Follow our steps to disable the InfoCenter.
4. Install the latest update from Autodesk.
Autodesk typically releases one or more updates for each year version of AutoCAD it rolls out. Each year's update(s) provide repairs of the all but inevitable bugs and issues that arise with each new version. Updates can fix everything from slow performance to issues with specific AutoCAD features.
AutoCAD users:
Download the latest update from Autodesk. Updates are available through the Autodesk desktop app. To get the app, log in to your Autodesk account and download it.
F/X CAD users:
Although we try to hold off on releasing F/X CAD until we can build any updates into the software, it's possible that a bug sneaks under the radar. Starting with F/X CAD 2018, we've bundled the update into the F/X CAD installer. If you need the update, you can uninstall and reinstall F/X CAD using the latest installer on our website for your year version.
However, we first recommend searching for your specific issue in our Knowledge Base using the search bar at the top of this page. You may be able to resolve it without having to reinstall.
5. Update your graphics card drivers.
It's imperative that your graphics card drivers are up to date to ensure the best performance and keep AutoCAD from crashing.
How to update your graphics card drivers:
The steps to update your graphics card will depend on the manufacturer.
First, follow our steps to find out the manufacturer of your graphics card.
Note the manufacturer, and follow the appropriate steps below:
NVIDIA graphics cards:
AMD/ATI graphics cards:
Go to the AMD Drivers and Support page. Enter your specific model of AMD/ATI card, and download the tool to auto-select the appropriate driver.
All other graphics card manufacturers:
Open your Start menu and search for Device Manager in the search box.
Then select the Device Manager option.
Expand the Display Adapters category.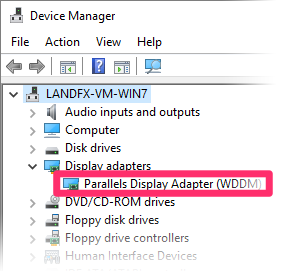 Locate your graphics card.
You'll see your graphics card within the expanded Display adapters category.
In our example, the graphics card is the Parallels Display Adapter (WDDN).
Right-click the name of your graphics card, then select Properties.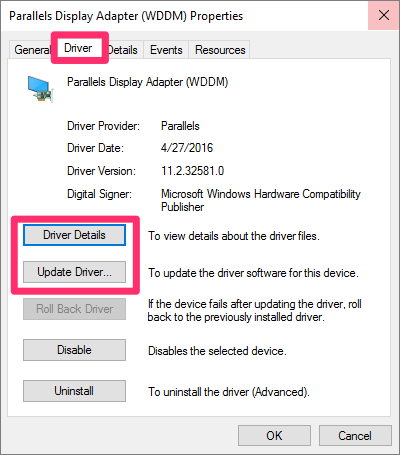 Select the Driver tab.
Click Driver Details to view information about the manufacturer.
You can also try updating the graphics card driver by clicking Update Driver.
If you're unable to update the driver successfully from here, go to the manufacturer's website, download the latest driver software for your graphics card, and install it based on the manufacturer's instructions.
Close
6. Update the .NET 4 framework through Windows Updates
These components aren't always updated automatically when running Windows updates because they are classified as "Optional."
Windows 10:
Because the .NET framework is built into the Windows 10 operating system, you don't need to complete this step if you have Windows 10.
Windows 7:
Windows 7 instructions:
Open your Start menu, and type Update in the search box.
Select Windows Update from the results.
Find the Optional updates, and click there to see whether any .NET updates need to be installed.

Close
8. Toggle your Graphic Acceleration setting.
If AutoCAD is lagging or being slow, try toggling your graphic acceleration setting. If it's off, turn it on. If it's on, turn it off. Then restart CAD and check its performance. We've found that in many situations, computers tend to perform a bit faster with this setting turned off.