AutoCAD is a resource-intensive program. Without optimizing your computer, AutoCAD or F/X CAD can experience errors and crashing issues. In response, we have provided several steps that we've found extremely helpful in reducing the instances of slowness, crashing, or freezing.
The following tips will help your CAD installation in good shape and, if all goes well, prevent it from crashing. If AutoCAD does freeze or crash, see our AutoCAD Freezes or Crashes page for potential causes and solutions.
1. Reboot your computer every day.
We have found the memory leak to accrue from the point of restarting the computer – so even though restarting AutoCAD does seem to remedy it for a short while, the best solution is to be sure to completely shut down the computer, which should keep errors to an absolute minimum.
2. Check for a common Internet Explorer error.
AutoCAD or F/X CAD freezing on startup? Here's what to do.
3. Disable the AutoCAD Info Center
NOTE: This does not apply to F/X CAD 2015.
AutoCAD Info Center runs in the background and communicates with Autodesk. We have found that disabling this program can increase your CAD performance.
We found a great free tool that will disable it completely. Go to this page on the Manusoft website and download the utility named AcadInfoCenterOff.msi.
4. Install the latest Service Pack / Update from Autodesk:
AutoCAD users:
Download the latest Service Pack (2017 and older) or Update (2018 and newer) for your AutoCAD year version.
F/X CAD users:
F/X CAD 2018 and newer
AutoCAD updates are available through the Autodesk Desktop app, which is only available with AutoCAD (not F/X CAD). If you're having an issue with F/X CAD 2018 or newer, first try searching our Knowledge Base for your issue using the search bar at the top of this page. Not finding your answer, or is the solution not working? It's time to inform us of your issue by sending us a technical support ticket.
F/X CAD 2015 – 2017
We started building the Service Packs into F/X CAD starting with version 2015. First, try searching for your specific issue using the search box at the top of this page. Can't find the solution? Let us know of your issue via a technical support ticket.
5. Update your video card drivers.
It's imperative that your video card drivers are up to date to ensure the best performance and keep AutoCAD from crashing.
How to update your video card drivers:
5A: Open the Device Manager.
Open your Start menu and search for Device Manager in the search box. Then select the Device Manager option.
5B: Expand the Display Adapters category.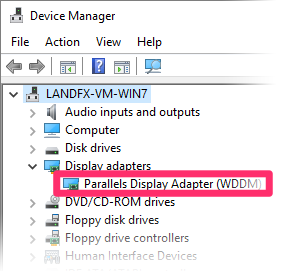 5C (Windows 10 & 7): Locate your video card.
You'll see your video card within the expanded Display adapters category.
In our example, the video card is the Parallels Display Adapter (WDDN).
5D: Open the properties.
Right-click the name of your video card, then select Properties.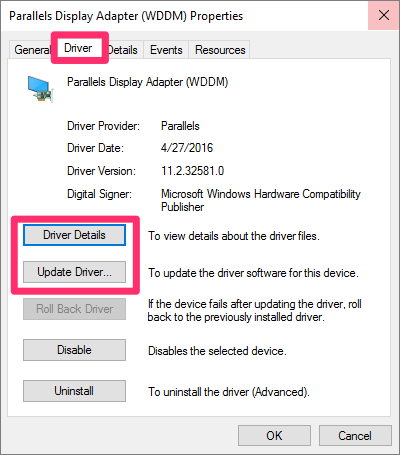 5E: Update the driver.
Select the Driver tab.
Click Driver Details to view information about the manufacturer.
You can also try updating the video card driver by clicking Update Driver.
If you're unable to update the driver successfully from here, go to the manufacturer's website, download the latest driver software for your video card, and install it based on the manufacturer's instructions.
Close
6. Update the .NET 4 framework through Windows Updates
These components aren't always updated automatically when running Windows updates because they are classified as "Optional."
Windows 10:
Because the .NET framework is built into the Windows 10 operating system, you don't need to complete this step if you have Windows 10.
Windows 7:
Windows 7 instructions:
Open your Start menu, and type Update in the search box.
Select Windows Update from the results.
Find the Optional updates, and click there to see whether any .NET updates need to be installed.

Close
8. Toggle your Graphic Acceleration setting.
If AutoCAD is lagging or being slow, try toggling your graphic acceleration setting. If it's off, turn it on. If it's on, turn it off. Then restart CAD and check its performance. We've found that in many situations, computers tend to perform a bit faster with this setting turned off. Instructions for turning Graphic Acceleration off >