Issue
After updating Land F/X, you tried to add a new Concept Node or Line using the Concept Graphics tool, but you're experiencing one of the following issues with the preview thumbnail slides:
You see blank squares in place of the preview slides, or
The preview slides are of poor quality, as shown below.
Cause
This issue is the result of a slide file download included in Land F/X 11.33. Depending on your date of installing the update, you may experience an issue with either Concept Nodes or Concept Lines slides (or with both).
Solution
Navigate to the folder LandFX/Blocks/Graphics/Concept. Within that folder, delete all files in the subfolders Nodes and Lines.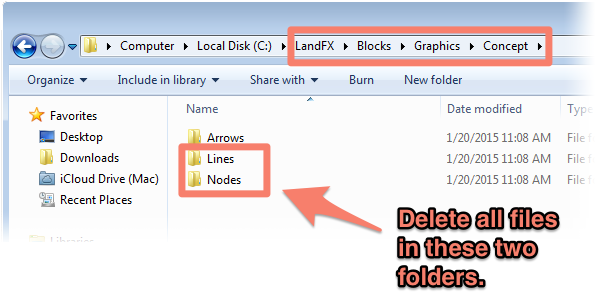 The system will now download new versions of your Concept Line and Node slide files as soon as you reopen the Concept Graphics tool and select Lines or Nodes. You'll see the difference in the thumbnail preview slides.
Revised Layers
Note that the new Nodes and Lines will have revised layer names. Place a Concept Line or Node in your drawing, then check the Layers area in your General Preferences to ensure that it includes the layer the layer LK-GRPH-CNCP-FILL.
If you see a layer named X-CONC-FILL, you'll need to change its name as described below. Highlight the layer X-CONC-FILL (if you see it), and click Edit.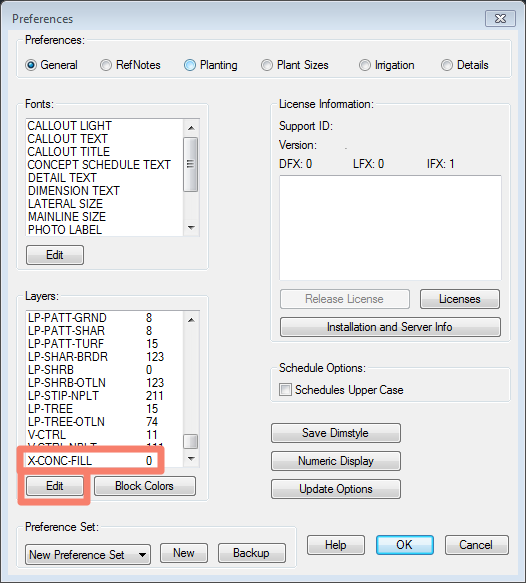 In the Edit Layer dialog box, change the name of the layer to LK-GRPH-CNCP-FILL and click OK.