Use this guide to print all of our blocks, callouts, symbols, and details and organize them into a binder for your office to reference. You can also just download and browse the files if you're interested.
The Land F/X Blocks and Graphics binder can serve as a reference for determining where your office will use the default blocks that are included with our software. You might also choose to include your own content you've created and saved into your Land F/X library using our customization tools such as: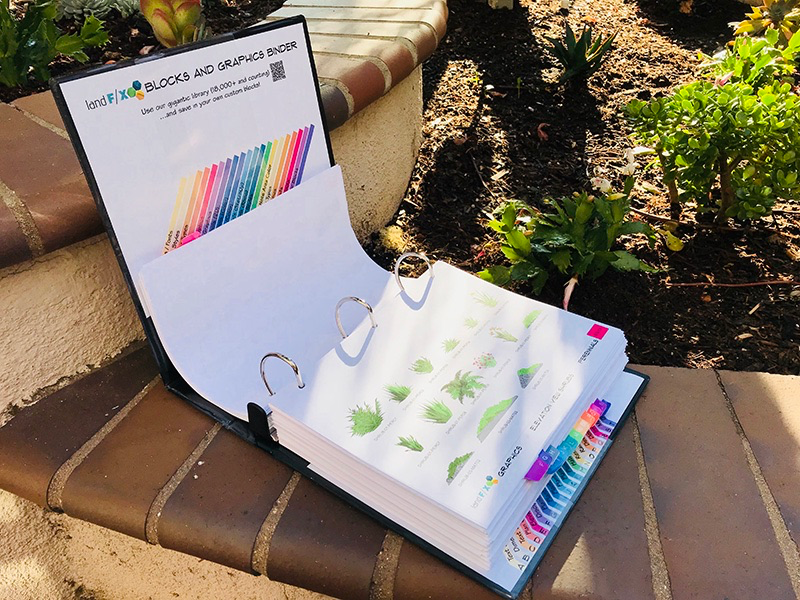 Our cloud-based block library includes 18,000+ blocks, with more added every week. The blocks download on demand as you use them in your drawings. We update this page quarterly, adding PDFs showing the new content we've added.
Materials list:
3-inch black binder with clear plastic sleeves
Avery Ready Index Multicolor Table of Contents Alphabetical Tab Dividers, A-Z
Color Printer
To assemble the binder:
1. Download the Table of Contents (TOC) page using the link below.
Download TOC
Updated June 08, 2022
2.
Print out the TOC page five times.
When placing copies of the TOC, have all letter tabs facing the horizontal edge.
Place one copy in the front cover.
Place one copy in the inside front sleeve. (Tape the free edge.)
Place one copy in the inside back sleeve. Fold it so the colored letter tabs are at the edge of the sheet. (They'll show better.)
Three-hole-punch one copy and place it at the front of the binder rings.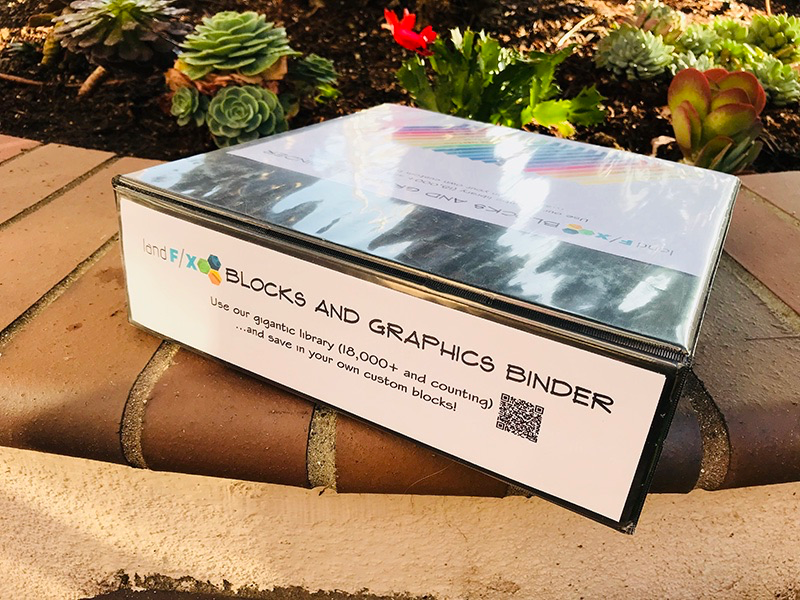 Fold one copy in thirds with only the title and description text showing. It needs to fit in the spine sleeve. Do not cut this copy – you need the folded paper to give it enough strength to push into the spine sleeve.
3. Insert the A–V tabs from the Avery Multicolor dividers into the binder rings following the TOC.
4. Use the links below to download each of the Block and Graphic sections.
Download links
Block and Graphic Sections (PDFs):
K: Plant Models (Rhino)
** Coming Soon! **
L: Plant Models (Revit)
** Coming Soon! **
O: Reference Note Area Color
** Coming Soon! **
V: User Saved Blocks
Add printouts of your
own blocks here if you'd like.
Customizing our content? Download the DWG versions.
Do you need the DWG versions of our content so you can customize it and create your own binder based on ours? Use the link below to download the DWG versions. You may need to update the corresponding Xrefs, so we've included those as well.
If you don't plan to customize our content and just want to download our default binder sections, use the PDF links for our binder sections provided above.
5. Print and three-hole-punch each section, then insert each section behind the correct division letter in the binder
6. Set a repeating calendar reminder to check back between six months and one year to update this binder.
Have a suggestion for a block or manufacturer that you think should be added to the system?
To send us a request or example of new block content, to suggest a new manufacturer, send us a technical support ticket with your message or request.