Issue
When you try to place detail callouts, the thumbnail preview slides are blank. The previews of the arrow styles in your Details Preferences may also be blank. The callouts or arrows may be fully functional when you place them, but you're unable to see the preview slides.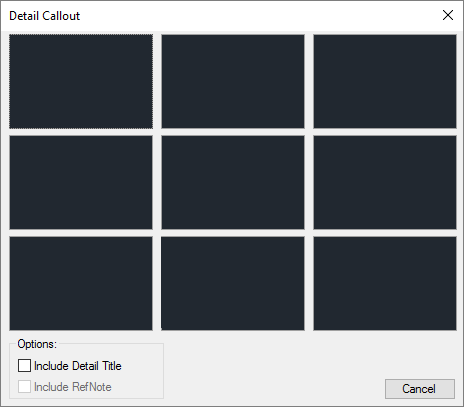 Detail Callouts dialog box with blank thumbnail previews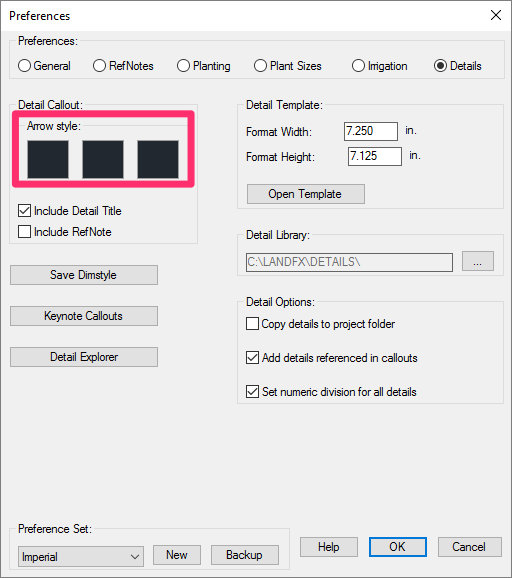 Blank arrow style previews in the Details Preferences
Cause
You are most likely missing the source files for the slides.
Solution
1. Download the Detail Callouts & Arrows Preview Slides zip file, linked below.
2. Locate the zip file you just downloaded. Double-click it to extract it.
This file may be in your Downloads folder, on your desktop, or in any other location where your browser is set to download files.
You should now have a folder named Slides in the location where you double-clicked the zip file.
3. Open the folder Slides, and move all files within that folder into the folder LandFX\Slides. You can select multiple files at once by pressing Shift while clicking files to select them.
When moving these files into the folder LandFX\Slides, you may be asked whether you want to replace one or more of the existing files of the same names in that folder. Select the option to Replace the file in the destination.
You should now have the correct thumbnail previews of the callouts and arrows, as pictured below.
Thumbnail previews of the Detail Callouts
Thumbnail previews of the detail arrow styles in the Details Preferences