Issue
You need to revert your detail index file (_index_.xml) to the most recent saved or backed-up version.
You may need to revert the index file because of a problem with your details folders or with the index file itself.
Solution
1. Open the folder LandFX\data\backups.
Within that folder, locate and open the subfolder with the most recent date (example: 2019-07-18, or July 18, 2019).
Your detail index file will be backed up in this location from the last time you backed up your projects – one of many good reasons to back up your projects regularly.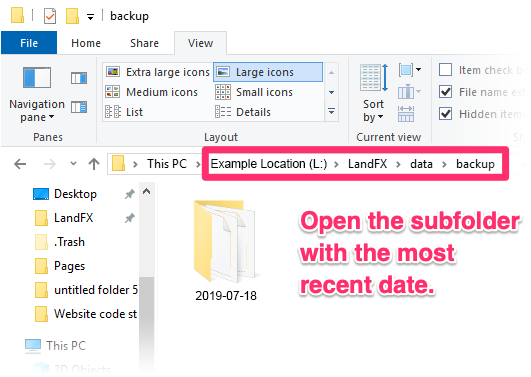 2. Locate the file _index_.xml in the dated subfolder you just opened.
Drag this file into the folder LandFX\Details, replacing the file of the same name in that location.
This step will revert your detail index file to the previous saved version.