Issue
You saw the following error message when trying to save a detail using our Save Detail tool:
Unable to find detail title and detail file number.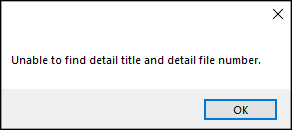 Cause
You are likely zoomed in too far, which is preventing the Save Detail tool from recognizing the detail's boundary.
Solution
Try zooming out a little so you can see the full boundary of the detail you're trying to save.
You should then be able to save the detail without seeing the error.