Issue
You are unable to edit or call out a Reference Note (RefNote) hatch you've placed using our Area/Volume Reference Note tool.
You've attempted, unsuccessfully, to either:
Edit the RefNote hatch using our Block Data tool, or
Call out the hatch using our RefNote Callout tool
Cause
Your hatch might be assigned the Sand pattern and also be colorized. A colorized sand hatch seems to interfere with the ability to edit or call out a RefNote hatch.
Solution
Step 1: Check the Hatch Pattern
Open the Reference Notes Manager, and select the RefNote that seems to be causing the issue (example: Mulch).
Click Edit to open the Edit Reference Note dialog box.
Click the Symbol thumbnail to see which hatch you've assigned to your RefNote.
In the Hatch dialog box, check whether you've assigned one of our Sand hatches to your RefNote.
If the RefNote is, in fact, assigned one of the Sand hatches, select a different hatch pattern (not one of the other Sand patterns).
Step 2: Turn Off Hatch Colorization (If Applicable)
Has your RefNote hatch been colorized using our Color Render tool? If so, you may need to turn off colorization in order to call out or edit your hatch.
Open our Color Render tool.
If your RefNote has been assgined a color, the box above its name in the Plant Colorization dialog box will be colored in rather than white.
To turn off colorization, click Off.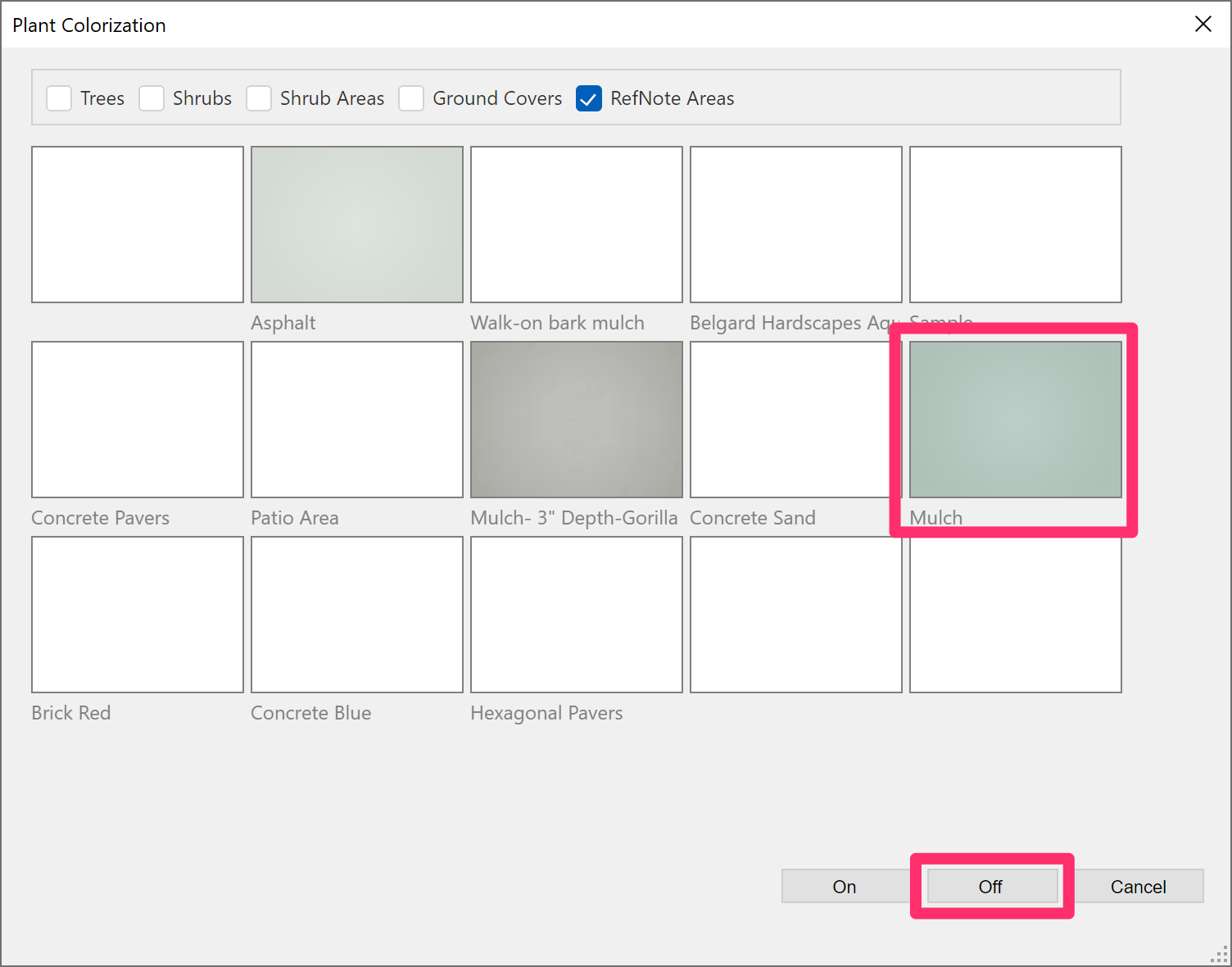 You should now be able to edit or call out your RefNote hatch.
Once you've edited and/or called out your hatch, you can assign it to one of the Sand hatch patterns and turn Color Render back on.