Issue
A Reference Note (RefNote) inside an Xref is not showing up in a schedule or Work Area–specific schedule, even though you are sure you checked the Include Xrefs option when placing the schedule.
Cause
You may have Xrefs attached in a way that doesn't follow CAD best practices. Examples include Xrefs that have been:
Referenced more than once in the same drawing (two plan variations side by side in Model Space)
Attached with an insertion point other than 0,0,
Incorrectly rotated
The Include Xrefs command will not recognize Xrefs that are set up incorrectly, which includes the issues listed above.
For instructions on working with Xrefs, see our documentation pages on:
Solutions
1. AutoCAD 2018 users: AutoCAD 2018 initially had problem with Xrefs that can cause this issue. If you haven't done so already, update AutoCAD using the Autodesk desktop app. To get the app, log in to your Autodesk account and download it.
Still having the issue after the update? Move on to the next step.
2. If you have a base Xref copied more than once in Model Space, detach both Xrefs from your drawing. You'll also need to move any other Xrefs and your various plans (planting, irrigation ,etc.) so the Xref's insertion point is at 0, 0.
3. Double-check in other instances that the Xref's insertion point is 0, 0. You may need to move your own design(s) with it, as well as any viewports.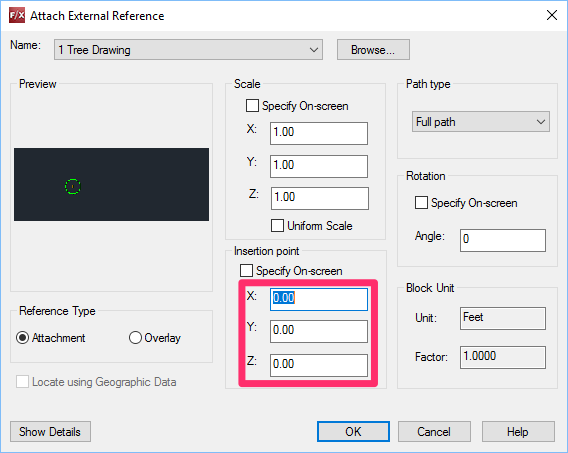 When placing an Xref using the native AutoCAD Xref tool, make sure the X, Y, and Z values in the Insertion Point area read 0, 0, 0 (or 0.00, 0.00, 0.00, etc.).
If you use our fxREF tool, make sure the Origin field shows 0, 0, 0 (or 0.00, 0.00, 0.00, etc.)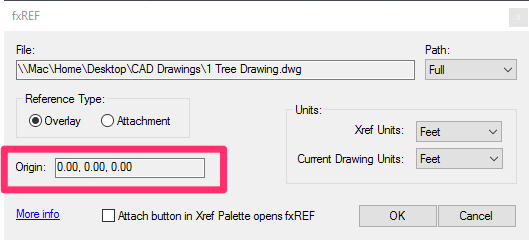 4. Re-rotate the Xref so the rotation is 0. You may need to rotate your own drawing to match.
You can then use the proper method of rotating with a User Coordinate System (UCS) using our New UCS tool.
A UCS will rotate the view of the drawing, but not the drawing itself.