Issue
You used some of our Leader with Text tools to call out various items in your drawing, and you're noticing that different leaders are coming in with different text sizes, as in the example shown below.
Cause
Your leaders most likely have different Dimension Styles (DimStyles) applied to them. In most cases, this issue will occur if you use leaders from both the F/X Site and F/X Details toolbars. These two sets of leaders with text (shown below) belong to two different DimStyles.
A few of the leaders available from the F/X Site ribbon
The leaders available from the F/X Details ribbon
Solution
1. Select one of the problematic leaders.
2. Type DimStyle in the Command line and press Enter to open the Dimension Style Manager.
3. Click Modify to view the settings of the DimStyle currently applied to the selected leader.
4. In the Modify Dimension Style dialog box, select the Text tab. Change the Text height setting to the same size as that of the correctly sized leader text (in our example, 0.0900).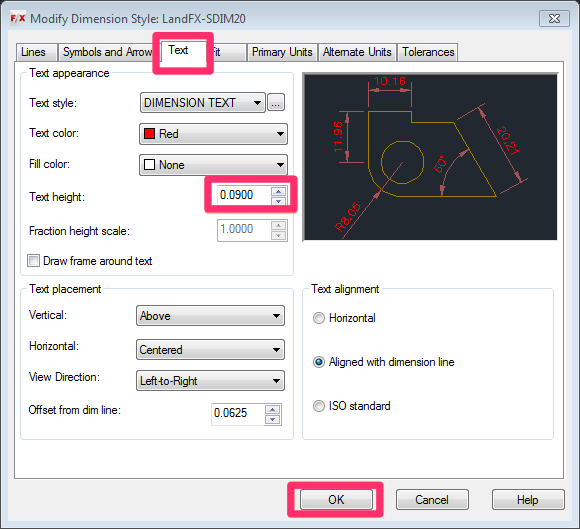 The leader text should now come in at the correct size.
Don't know the correct Text Height setting? You can find it out by selecting one of the correctly sized blocks of leader text, typing DimStyle, and following the steps outlined above to find out the Text Height setting of its assigned DimStyle. You can then modify the problematic DimStyle to match this Text Height setting.