Issue
You want to use the old site leaders with text – that is, the versions prior to our update that turned these leaders into MLeaders with background masks.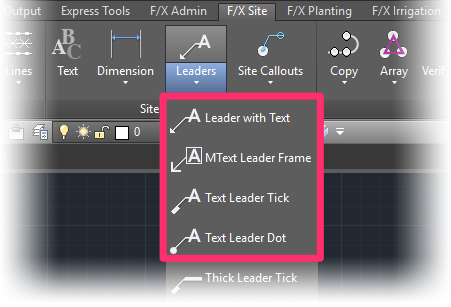 Solution
At the request of a few Land F/X users, we've added Command line keyboard commands for our four site leaders with text. The following commands will result in the corresponding text leader in the old style, without Mleaders and without background masks:
Leader with Text: Type

FX_OldTextLeaderDim
MText Leader Frame: Type

FX_OldMtextLeaderFrame
Text Leader Tick: Type

FX_OldTextLeaderPline
Text Leader Dot: Type

FX_OldTextLeaderDot
If you want, you can assign a keyboard shortcut to each of these leader types.