Use the Planting F/X for Revit Plugin to simplify your planting design workflow inside Revit, or to bring your AutoCAD Planting F/X design over into Autodesk Revit quickly with the 3D Connection. You can download the installer below. Sign up for a trial.
Important notes:
Because it's an add-on, Land F/X is not compatible with Revit LT, which, just like AutoCAD LT, doesn't allow add-ons.
If you plan to use Revit 2021 and F/X CAD 2021 on the same system, you'll need to install and activate Revit first, then install and activate F/X CAD.
Our Revit Connection allows you to manage your planting design inside the Revit environment while also providing tools needed to coordinate a BIM workflow. Import your 2D design into Revit while maintaining your exact placements and symbol sizes from CAD.
Compatibility
Planting F/X for Revit is maintained on the latest 3 versions of Revit: 2024, 2023, and 2022. Version compatibility before 2022 is now discontinued due to the incompatibility of updated Planting F/X add-in features with these older versions of Revit. We apologize for the inconvenience and encourage planting design users to push their team for a project model version upgrade to use better BIM tools for all disciplines.
Planting F/X for Revit works on full versions of Revit for Windows, but not on Revit LT. Planting F/X is not compatible with Revit LT, which doesn't allow add-ons.
Get help from other users
Although we'll provide as much support as possible for our Planting F/X for Revit plugin, it's always a good idea to reach out to other Land F/X users who have opted to be Revit trailblazers. We encourage you to use our Community Forum to ask questions. Another user may have run into the same issue and may be able to help.
Installation steps
Step 1: Prerequisites
Revit installed (Support for Revit 2022 and newer. Legacy Planting F/X available for 2019, 2021, and 2022. Older versions are not supported.)
Note: Revit is a separate program you need to purchase and download from Autodesk.
Using a Mac? Install Revit for Windows on a virtual machine using a program such as Parallels.
A folder for your Planting F/X for Revit Library (see suggested locations in Step 2 below).
Your Land F/X Support ID (Find your Support ID).
Your office must be using Cloud Data. More information:
Step 2: Install the Planting F/X for Revit plugin
Our Planting F/X for Revit plugin is only available for Windows machines at this time. Here's how to install it:
2A. Right-click the installer link below.
Planting F/X for Revit Plugin Installer (33.54MB)
Updated 09/11/2023
2B. Select Save Link As or Save Target As from the menu. Save the file to your desktop.
2C. Locate the file setup_PlantingFX_for_Autodesk_Revit.exe, which you just downloaded. Double-click this file to run it.
2D. If asked if you want this app to make changes to your device, click Yes.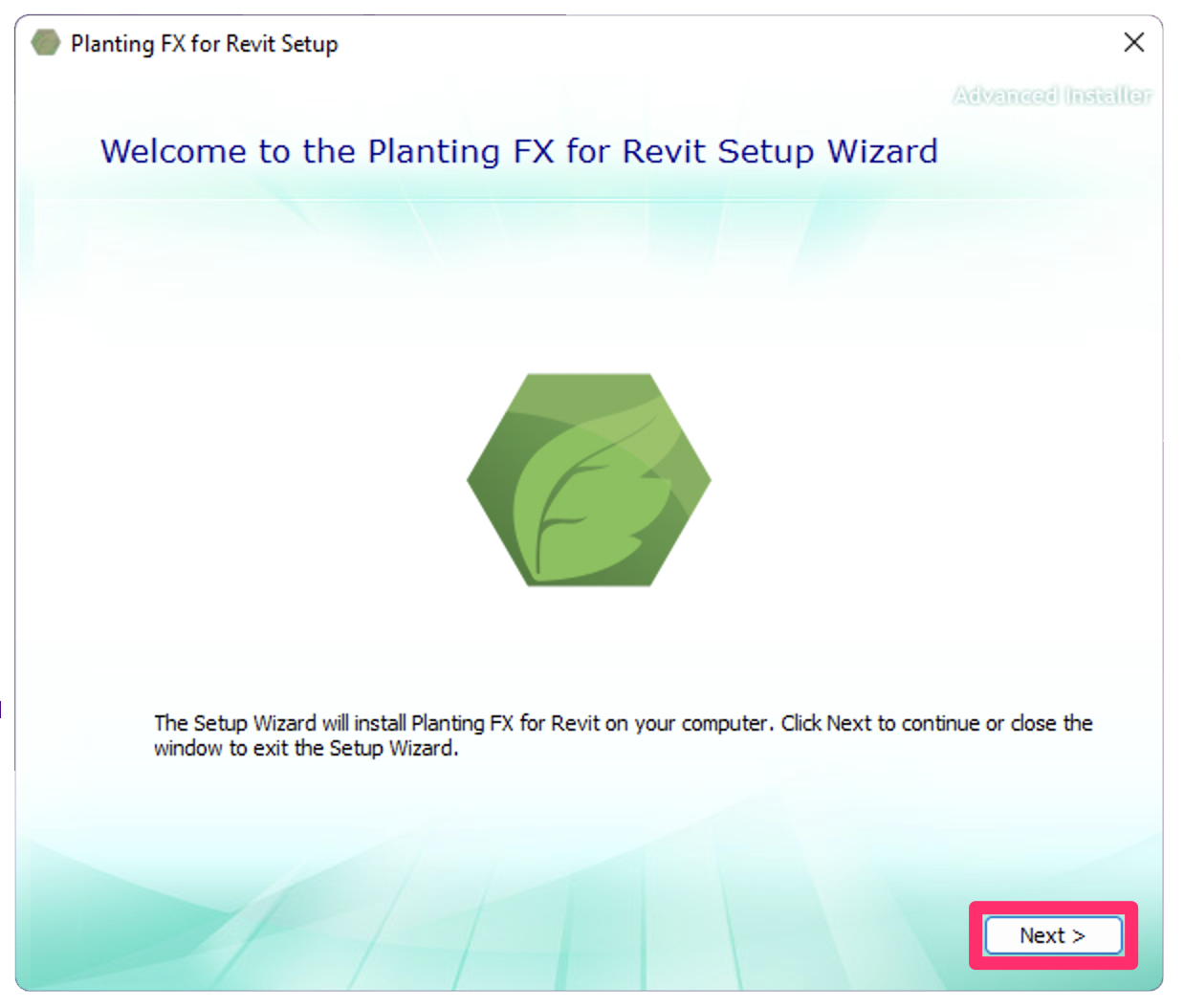 2E. The installer welcome screen will open. Click Next.
2F. Scroll down and accept the user agreement if you choose to do so.
Then click Next.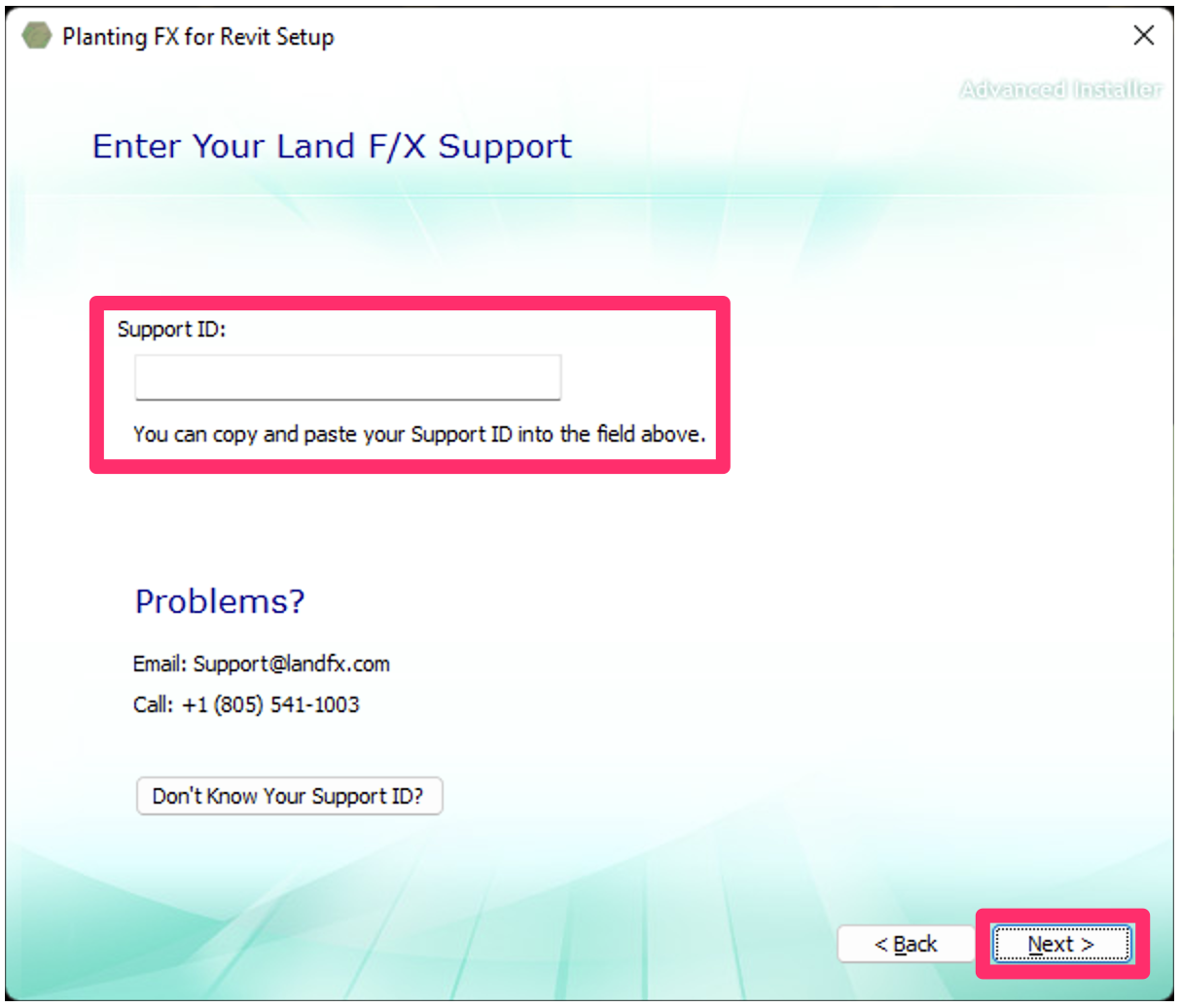 2G. Enter your Land F/X Support ID* when prompted. You can simply copy and paste it into the text field.
*You or your office will have received your Support ID in an email from Land F/X.
2H. In the Begin installation screen, click Install.
2J. Open Revit.
2K. If you see a security popup like the one pictured to the right, click Always Load.
2L. Once you open a drawing (blank or otherwise), you should see the Planting F/X 3D Connection tools in a new Planting F/X ribbon in Revit (pictured below).
Open the
Preferences
flyout and select the
General
option to open the
General Preferences screen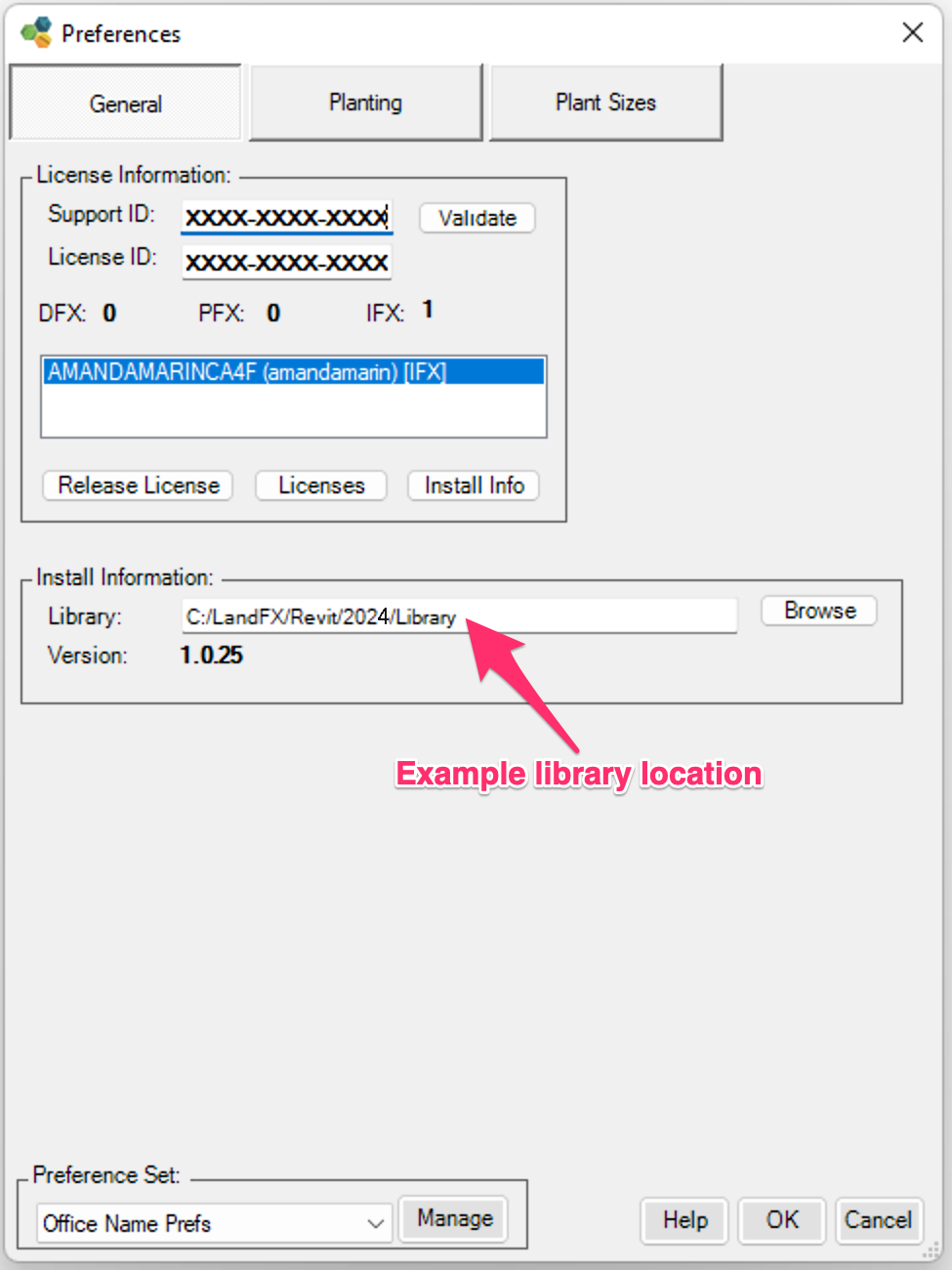 2M. Assign a library location for your Revit content.
Notes on setting up a library location:
Based on how Revit version years separate the files and require version upgrades, we strongly recommend locating your library folder in a version year folder (example: Revit/Library 2022/Library/), even if you only have one version of Revit installed. This way, when you upgrade Revit versions it will be easier to just set up a library folder for that new version and download that year's plant families.
We recommend creating a library folder path within your office's Land F/X Server location, such as:
(Mapped Letter Drive):/LandFX/

Revit/Library 2023/Library/

(where (Mapped Letter Drive) is the drive you've mapped for your office's shared LandFX folder.)
C:/LandFX/Revit/Library 2023/Library/ (for Single-User installations)
More information on setting up your Revit Planting F/X library folder
Step 3: Load the Planting F/X Shared Parameters
3A. Open any Revit project file – even a new blank project.
3B. Click the Manage ribbon.
3C. Select the Shared Parameters tool.
3D. Click Browse, then navigate to the following file:
C:\ProgramData\Autodesk\ApplicationPlugins\plantingfx_revit.bundle\Contents\2022\Landfx\LAFX_Families\LandFX-Shared-Parameters.txt
3E. Click OK in the Edit Shared Parameters window.
Step 4: Get started.
You're now ready to begin using the Planting F/X for Revit Plugin tools! For information and instructions, see our:
Updating the Planting F/X for Revit plugin
To update our Planting F/X for Revit plugin, you'll simply uninstall the previous version and then download and run the latest version of the installer.
To download the latest installer, use the link in the installation steps above. The installer will guide you through the updating process.
For specific steps on updating, see our article on updating (upgrading) the Planting F/X for Revit Plugin.
Uninstalling the Planting F/X for Revit plugin
Need to uninstall? Follow our steps to uninstall the Planting F/X for Revit plugin.
Related Webinars
Intro to Planting F/X for Revit Plugin: As always, our goal with this plugin is to bring the planting design learning curve as low as possible. We cover installation, Planting F/X projects, the Plant Manager, plant placement as families or floors, group labels, Verify Labels, instant schedules, and rendering options with our default family library. (1 hr 12 min)
Importing Plans into Revit: If you're being asked to bring your design into Revit and you're a landscape architect or irrigation designer, this webinar is for you. We'll cover first steps, basic orientation of Revit, the pros and cons of certain strategies, importing the DWG linework either 2D or Civil 3D and making toposurfaces and floors, and first-step methods for importing your landscape and irrigation plans. (1 hr 5 min)
Troubleshooting
Issue: External tool failure: Revit cannot run the external application "Land F/X" when opening Revit after installing the plugin
Issue: You tried to validate your Support ID, and the validation dialog box popped up blank
Issue: Plant copies with the same code are missing when you attempt to send your project to SketchUp, Rhino, or Revit
Issue: You saw the following error message: "Revit could not complete the external command. Contact the provider for assistance ..."
Issue: When installing the Planting F/X for Revit plugin, you saw the following error message: The Wizard Was Interrupted before Planting F/X for Revit could be completely installed
Issue: LandFX: Your license is invalid and this product has not been activated properly on this system
Issue: You saw an error that includes the text ERROR DownloadFile, An error occurred downloading a file, and System.IO.DirectoryNotFoundException: Could not find a part of the path ... upon opening Revit after installing our plugin
Revit®, Revit LT™, and AutoCAD® are restricted trademarks of Autodesk™.