The following steps will install a trial of F/X CAD 2024 and Land F/X – including the Irrigation, Planting, Site, and Details tools – using Cloud Data.
Step 1: Prerequisites
To complete this installation, you will need:
Your Land F/X Support ID*.
*You will have received your Support ID in an email from Land F/X.
The location where you will be storing your LandFX folder.
This folder will contain all data associated with your Land F/X installation and projects. More information
F/X CAD requires a robust computer in order to function properly.
Take a look at our system requirements.
Installing on a Mac? You'll need to install virtual software such as Parallels or VMware Fusion and a Windows operating system first.
Before installing F/X CAD 2024, verify that you do not have:
This installation is available as a 30-day trial. We are unable to offer extensions.
Step 2: Download and extract the installer
2A. Right-click the F/X CAD 2024 Express Installer download link below.
F/X CAD 2024 Installer - 64 bit Only (2.68GB)
Updated 07/06/2023
Select "Save Target As" or "Save Link As" from the menu that opens, and save the file to your desktop.
The installer is quite a large piece of software. Please allow 10 to 30 minutes for the download to complete.
2B. Go to your desktop, and double-click the file fxcad2024.express.exe.
If you clicked the download link directly, this file will likely be in your Downloads folder.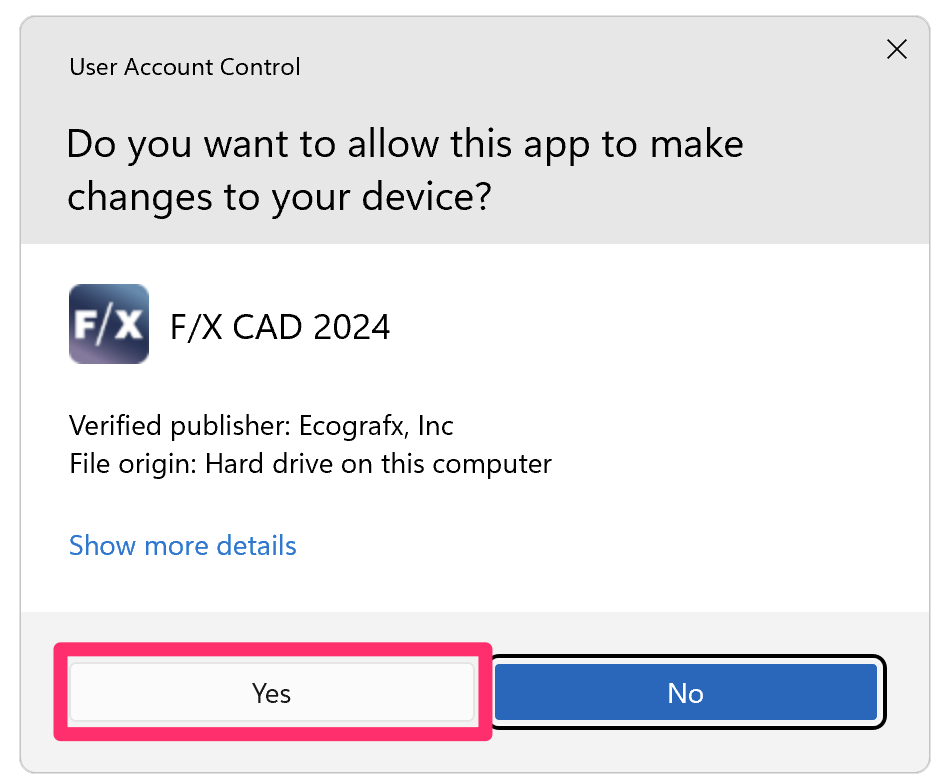 At this point, you might see the following message: Do you want to allow this app from an unknown publisher to make changes to your PC?
If so, click Yes.
Step 3: Install F/X CAD
3B. You'll now see a screen showing your F/X CAD license type: Standalone (i.e., purchased) or Trial. Click Next.
If you want, you can click Switch to Trial or Switch to Purchased, or use this link to find out how to change your license type. However, you can just continue with the installation at this point and, if necessary, change your license type after installing.
Step 4: Install Land F/X
4A. You'll now be brought to the Land F/X installer. Proceed through the installation steps, paying special attention to the screens pictured below.
4B. Enter your Support ID* when prompted.
*You or your office will have received your Support ID in an email from Land F/X.
"The Wizard was interrupted"
Did you see this error after entering your Support ID? Solution
4C. File Location and License Terms
During the File Location and License Terms step, you'll be asked where to install the LandFX folder. Our installer will create this folder automatically in the location you choose.
The default option is C:\LandFX\ – the C: drive on your computer.
Single-User installations: You can choose the default location or click Change to browse to a new location.
Multi-User installations: Click Change and select a location for the LandFX folder.
Multi-User installations: The LandFX folder will need to be shared on your network, so make sure it's in an appropriate shared location and your users have full read-write permissions for that location.
Check the box to agree with the License terms and conditions, then click Next when finished.
More information on the LandFX folder and where to place it
Important considerations:
Step 5: Open F/X CAD and get started
You might see the Let's Get Started screen, pictured below, instead of the Autodesk Licensing screen.
Step 6: Migrate your settings and uninstall any older versions
For F/X CAD to function correctly, it's a good idea to uninstall all previous versions of AutoCAD or F/X CAD from your computer – after you migrate your personal settings from that version.
6A. Follow our instructions to migrate your AutoCAD or F/X CAD settings.
6B. Open your Start menu, and select Control Panel.
6C. Select Programs, or Programs and Features. Then select Uninstall Program.
6D. Select any Autodesk product you need to uninstall (example: F/X CAD 2023), then click Uninstall/Change.
You'll now see the Uninstall screen for the version of AutoCAD or F/X CAD you selected. Click Uninstall and follow the prompts to uninstall the program.
For more detailed steps, see our Uninstall AutoCAD or F/X CAD page.