Right Click the appropriate installer, and choose to Save it to your Desktop. Unsure if your computer is
32 bit or 64 bit?
Click here.

F/X CAD 2013 - 32-bit Installer -



F/X CAD 2013 - 64-bit Installer-
Before installing F/X CAD 2013, it's a good idea to verify that you do not already have AutoCAD or F/X CAD 2013 installed on your computer – even a trial version. Follow our instructions to check for and uninstall existing versions of AutoCAD or F/X CAD.
Download files
Step 1 - Once downloaded to your Desktop, double-click on the icon and click install.

Step 2 - When it's done installing, there will be a F/X CAD 2013 folder on your Desktop.

Step 3 - Within that folder is a setup.exe Right Click on it and choose to Run As Administrator.
Select Install
Select Install
Agree to License Agreement
Select I Accept on the License Agreement
Select Stand-Alone install, Select I have my product information
Select Installation Packages
If you do not have Land F/X installed, then check the option for F/X Server.
*You will need a Support ID that will be provided by Land F/X.
Server? Workstation?
Select Install options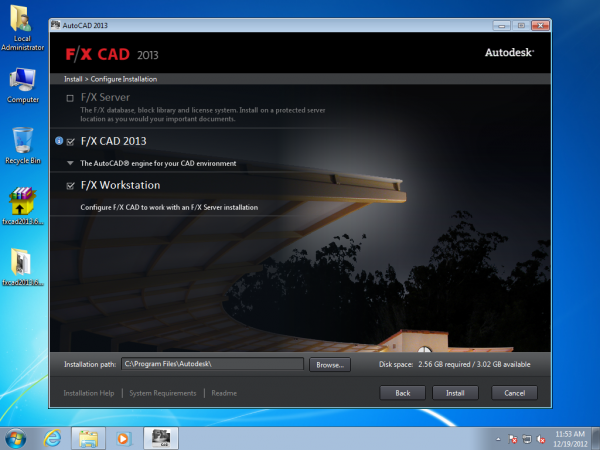 F/X Server
F/X CAD 2013
Installs F/X CAD 2013 CAD Engine
F/X Workstation
Launches Workstation Installer to connect to F/X Server
Note: If you are installing this as a 'standalone' installation, i.e. you will not be using a server or sharing files in an office, select F/X Server so that your computer will act as both a Server AND a Workstation.
Installation Process
If you chose
F/X Server
, you will have an InstallShield Wizard pop up.
Click Next

Accept License Agreement

Enter Support ID

Product will be Activated for 0 stations, Click Ok.

(Destination Folder Prompt) Click Next

(Database Installation) Click Next

(Select Features to Install) If you bought only Land F/X (planting), then uncheck Irrigation F/X Files

Install
Installing 10 out of 10. Can take up to 20 minutes
The next step is the InstallShield Wizard for F/X CAD Workstation. Please do not close.
Note: If you chose F/X Server, this will be the second InstallShield Wizard.
Step 1 - F/X Workstation InstallShield Wizard
Step 2 - Agree to License Agreement
-If you chose F/X Server, the location will automatically populate.
-If you are installing a workstation, click Locate to find the server's Land F/X folder.
is put together with hammers, or whatever hard object you have lying around
Note: If you are installing a Workstation to an existing Land F/X office setup and will be connecting to the computer that will act as the Land F/X Server, make sure that the folder is accessible through the network and it is a good idea to 'Map the Network Drive' - More Information on
Mapping a Network Drive HERE.
Step 3 - Choose Location
Step 4 - Click Install
IF AT ANY POINT YOU HAVE QUESTIONS, DO NOT UNINSTALL! CALL 1-805-541-1003
Installation Successful
ALMOST DONE!
You are almost done! To complete your installation you will need to: