Issue
When attempting to size all lateral pipes in your irrigation design, you saw the following error message:
Unsizeable valve encountered. Flow velocity has been reduced to minimum, and friction loss still exceeds allowable pressure variation. Erroring out.

What is pressure variation?
The Pressure Variation setting in the Size Lateral Pipes dialog box allows you to set a value for how much pressure you will allow your irrigation system to lose.
When sizing the lateral pipe for only one valve at a time, you'll see the Pressure Variation as both a percentage of the current Design Pressure listed at the top of the dialog box, and as the actual pressure loss that will occur based on this percentage. If sizing all valves, you'll only see the percentage.
This setting works in conjunction with the Maximum Velocity setting. If the friction loss is larger than the allowable pressure variation, the system will reduce the velocity.
As soon as the friction loss pushes past the minimum allowed velocity (3fps or 1m/s for metric), the pressure variation will auto-set to OFF.
Cause
One or more valves in your design have an excessively high Friction Loss setting. You should be able to override this issue by disabling the Pressure Variation setting when sizing your laterals.
Solution
Open our Size Laterals tool again.
Size all valves at a time, but set the Pressure Variation all the way to the left to Off, as pictured to the right.
The system should size without generating the error.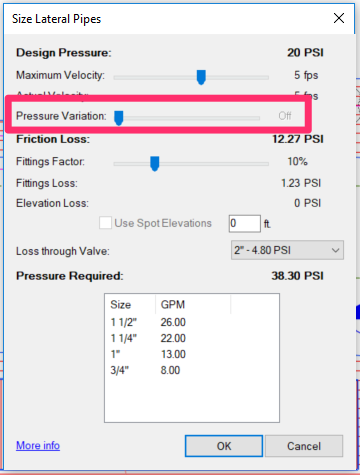 Need to investigate the individual valve(s) causing the issue?
If you want, you can also check the settings of the valve(s) generating the error. Here's how:
Click OK in the error message.

The system should zoom in on the valve in your design that is causing the issue (as in the example to the left).
Did you only zoom in to a portion of your plan, rather than a specific valve? Here's what to do.

Press the F2 key to pull up the command list (pictured to the right).
Look for the last valve listed – in this example, valve 40C. Take note of this valve – it's the valve you'll need to size individually using the steps below.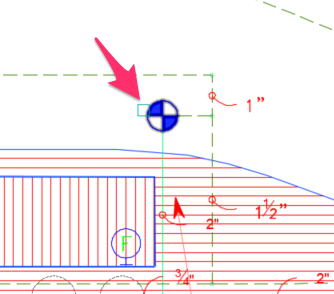 Open our Size Laterals tool again.
This time, use the pickbox to select only the valve causing the issue, as pictured to the left. (Do not size all valves at a time.)
When the dialog box opens, the pressure variation will be turned off, allowing you to start altering the velocity to determine the sizes and friction loss that are acceptable to you.
Size your laterals again. This time, take care to do one of the following:
Size all laterals at a time, making sure to set the Pressure Variation to Off, as pictured to the right, or ...