Issue
Are you attempting to use the S2 spray head family and running into issues? This family of irrigation symbols, once part of the Land F/X symbol library, was discontinued in 2010. If you are trying to use the S2 family in your drawing, you may find that the symbols are mistakenly appearing in your drawing as turf heads, for example.
Cause
As mentioned above, the S2 family was discontinued quite long ago.
To address this issue, you will need to rename your existing S2 blocks to have an X- prefix (that is, the block filenames should start with X-).
Solution
We recommend using a Rename tool such as this one: http://www.1-4a.com/rename/download.htm
Using this type of tool, you can rename your S2- spray symbols to instead have an X- prefix.
Now open your Irrigation Preferences. In the Spray Symbols list, select the head type that you had previously assigned the S2 family symbols. Click Edit.
The following dialog box will open. Click the User Defined symbol category.
Back in your Irrigation Preferences, verify that the head type you selected is now followed by the words Family X. (Family X is the basic customizable family in the Land F/X irrigation symbol family library.) Click OK.
You'll only need to complete these steps for the symbols in the Spray folder. You do not need to bother with any S2S- files in the Schedule_Symbols folder. (See the image below.)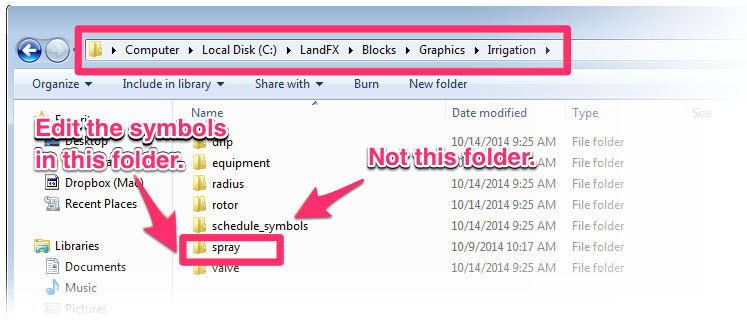 The spray folder will be located in the following path: C: > LandFX > Blocks > Graphics > Irrigation.