Issue
You placed standard spray heads that you haven't used in a while. When you tried to insert the heads you typically use, the symbols seem to have changed, along with their block names. As a result, you are unable to use your custom symbols.
Cause
When you add a spray model to the project, the system will look into the Preferences to see which symbol family should be used.
Then, when you place a head, the system will insert the symbol block and then create the spray block out of that block.
The issue may be arising because:
Your Symbol Family settings are incorrect in your Irrigation Preferences, or
You are attempting to place a secondary model of a turf or shrub spray head, so the system is using a different symbol family preference.
Solution
First, delete all errant heads.
Type PRG in the Command line to completely purge out all blocks.
Then in the Irrigation Preferences, confirm your symbol family settings. Highlight a spray symbol type in the Spray Symbols list, then click Edit.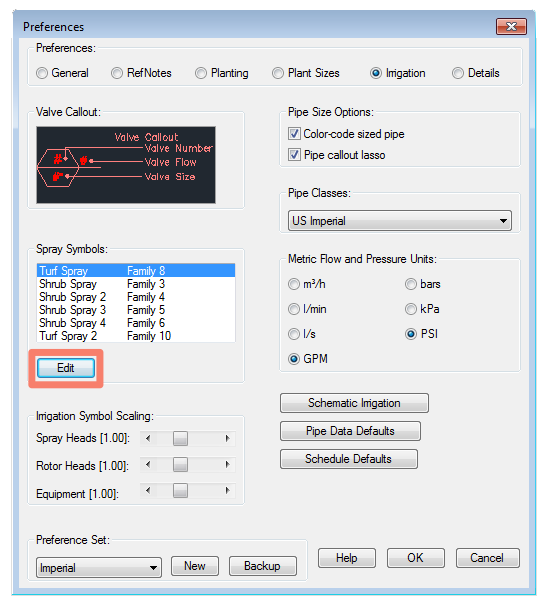 Clicking Edit will open the spray symbol library for the selected head type. Here, you can confirm your spray family.


Finally in the Irrigation Manager, Delete the model with the errant symbol settings, and add the same model back.
In the Irrigation Manager, highlight the model with the errant settings (example: Rainbird 1800-1400 Flood). Then click Delete.
Finally, add the same head back into the project. Click New, then follow the steps for Adding a Head to a Project.
Your head should now be assigned the correct symbol.