Issue
The pipe sizes or pressure/flow units in your irrigation plan are in the wrong measurement system. For example, you might be designing in Imperial units (feet and inches) but the pipe sizes are in metric.
Cause
You likely have the incorrect Preference Set assigned to your Land F/X project, or someone in your office may have changed some of the unit settings in the correct Preference Set.
The software pulls pipe classes, along with pressure and flow units, from the current Preference Set.
Solution
Still having issues with your pipe units? Check to ensure the Preference Set has the correct settings assigned for Pipe Classes and Flow and Pressure Units.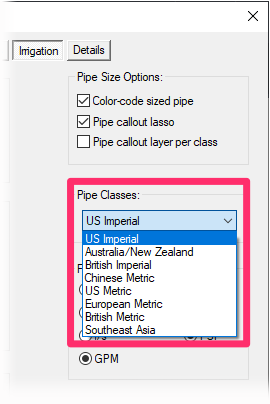 Still having issues? Send us a technical support ticket with your drawing and Land F/X project so our team can troubleshoot further.