Issue
You want to insert an irrigation symbol such as a bubbler on each shrub and tree, then erase the plant symbol. You're hoping to find a way to replace plant symbols with bubbler symbols so that, when you go to pipe the bubblers, the system will recognize them.
Solution
You can easily replace plant symbols with irrigation symbols using our Match Properties tool. In fact, Match Properties is a quick and easy way to replace any symbol in your drawing with another symbol.
1. Place the piece of equipment with which you'd like to replace the plants (if you haven't placed it already).
You can place it anywhere off to the side, as pictured to the left. You can delete this component later – you'll just be using it to replace your plants.
2. Open our Match Properties tool from the F/X Irrigation ribbon or F/X Planting ribbon, or by typing FX_MatchProp in the Command line and pressing Enter.
3. When prompted to select a source object, select the irrigation component.
When prompted to select a destination object, select one of the plants you want to replace.
4. The plant you selected as the destination object will be replaced by the irrigation equipment.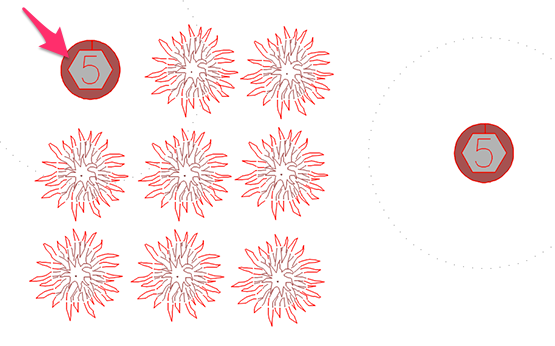 5. If you want to replace all plants of that variety with the irrigation component, draw a window that includes the entire plan.
If you don't want to replace ALL instances of that plant variety with the component, you can also just window specific groups of the plant.
All plants of the selected variety from within your window will be replaced by the irrigation component.
Even if your window includes other plant varieties, only the variety you selected as the source object will be replaced with the irrigation equipment.
6. (if necessary) If you placed an extra component off to the side (Step 1), don't forget to delete that component.