Issue
You want to calculate the square feet or meters of an irrigated area, or the total irrigated area, in your design.
Solution
The best method of calculating the irrigated area of a zone or of your entire plan is to use our Schematic Irrigation tools to create a schematic plan before laying out your design. Once you've created your schematic plan, you can calculate the total of area of your zones by placing an Irrigation Schedule and selecting the option to list Schematic Areas. More information >
If you've already laid out your design and haven't used the Schematic Irrigation tools, the most accurate method of calculating the areas of your zones would be to use our Uniformity tool.
After you run the Uniformity tool on your valves or zone boundaries, you'll see a color-coded map showing the coverage provided by the heads connected to that valve or area.
You'll then have a few options for calculating the area of these zones.
Option 1: Check the Properties Panel
1. Click one of the colors.
2. Right-click, then choose Select Similar from the menu that opens.
3. Type Prop in the Command line and press Enter to open the Properties panel.
The area of all selected colors will be listed in the Properties panel.
If the Area total is listed as *VARIES*, you can click on each color to see the area result of that color.
Complete this process throughout each zone, and add up the different numbers to get the area per zone.
Option 2: Use our Area Total tool
1. Open our Area Total tool.
2. Select a color-coded zone.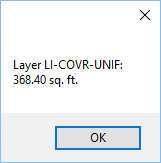 You'll see an overall area quantity of the Uniformity coverage layer.
Option 3: Site Area Callout
1. Type REGION in the Command line and press Enter.
2. Create a region from the colored objects making up the Uniformity map of a zone.
3. Type UNION in the Command line and press Enter.
4. Create a union of the region objects.
5. Explode the polyline boundary of the region.
6. Place an Area callout.