Issue
You received a Missing File message when trying to place plants.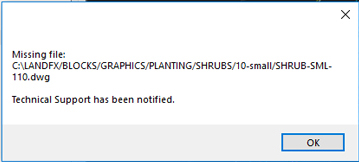 Cause
The symbol currently set for the affected plant is not in our database, either because you are trying to place:
An old Land F/X symbol whose filename lacks the LAFX prefix, or
A custom plant symbol
Solution
You can resolve this issue by:
Changing the symbol assigned to the plant to one from our database, or
Locating the DWG source file referenced in the error, and place it in the folder directory that's also listed in the message.
In the example to the right, you would locate the source DWG file SHRUB-SML-110.dwg and place it in the folder directory C:\LANDFX\BLOCKS\GRAPHICS\PLANTING\SHRUBS\10-small.
Once you've placed the correct DWG in the correct directory, you should be able to place the plant successfully.