Issue
Your Plant, Irrigation, Details, or Reference Notes schedule is excessively long, and you want to break it up into smaller parts.
Solution
Plant, Site, Reference Note, and Irrigation Schedules, As Well as Calling Out Details Within Details
For Plant and Irrigation Schedules:
Option 1: Use multiple Work Areas to be able to create different schedules for different areas.
For more information, see our documentation sections on using Work Areas with Plant Schedules and Irrigation Schedules.
Option 2: Place your schedule into Model Space.
Try placing your schedule in Model Space. To view it in Paper Space, create a viewport that fits your entire schedule.
If your schedule is still too long, or too tiny, move on to Option 3.
Option 3: Break up your schedule using multiple viewports in Paper Space.
Create a viewport around your schedule in Paper Space. Zoom in until the text is your desired size. Move the boundaries of the viewport to accommodate the width of your schedule.
Now make a copy of that viewport to the side. You now have two identical copies of your schedule that you can configure to show the first and second halves of your schedule.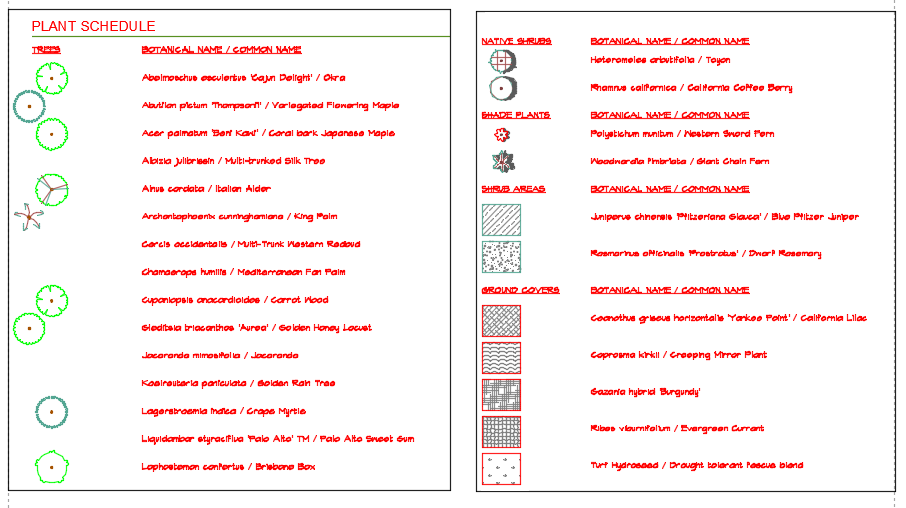 If your schedule doesn't fit into the two viewports, you can continue to make additional viewports and size them accordingly to create a schedule with three or more columns.
Details Schedules
If you run into this issue with your Details Schedule, you'll want to place your schedule into Model space.
If you have to stick with one sheet per drawing, you'll need to Xref it into multiple sheet files – just like a plan file. But you'll be able to adjust the viewport to show just what you need.