Issue
You're trying to create a Plant Schedule, but are receiving an error message – or the schedule is not generating.
Causes
Several factors can affect your ability to create a Plant Schedule. If you're experiencing this type of problem, you'll need to complete the troubleshooting steps listed below.
Solution
1. If you're selecting a Work Area, or have Work Areas in the drawing, you can try freezing the work area layer, to see if that has any effect on generating the schedule. You can do this by typing LAYFRZ in the Command line and pressing Enter, then selecting the layer of your Work Area.
2. In the Plant Schedule dialog box, check the Entire Palette box. Click OK to enact the change.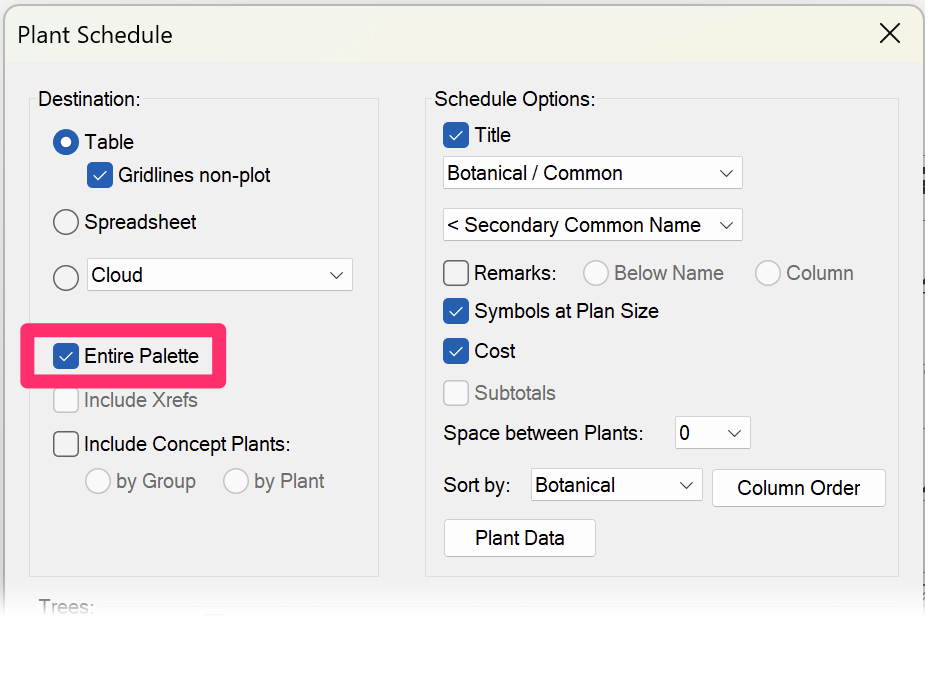 If checking this box allows you to generate a schedule, we know the issue has something to do with attempting to generate the quantities. If this is the case ...
3. Freeze the groundcover hatch layer, then attempt to generate a plant schedule with quantities. If you also have shrub areas, you can try freezing both the hatch and boundary line layers, and then attempting to generate a schedule.
By trying the steps listed above, you should be able to narrow the issue down to whether the issue has to do with Work Areas, groundcovers, or Shrub Areas. Or of course, you can narrow it down to none of the above being the issue (if the error still occurred when you checked the Entire Palette box).
Notes:
The plant scheduling error we see most commonly is a result of errant groundcovers. Usually, this error occurs in the case of large, complex areas that happen to have self-intersecting boundary points.
In the case of errors occurring with Work Areas, the most common issues occur with extremely large drawings encompassing hundreds if not thousands of miles from 0,0.