Issue
You want to turn off our Color Render tool for one or more of your plant symbols but leave the other plant symbols colorized.
Solution
You can turn off the color for selected symbols by completing the following steps.
Note that this process will not work with plants that are on frozen layers.
1. Turn Color Render OFF for the plan.
2. Create a layer named something like Color-Exclude.
3. Using our Highlight Plant tool, select any plants you want to exclude from color (that is, just show as a normal plant symbol). Type S in the Command line to add the selected plant(s) to a Selection.
4. With the plant(s) still selected, type Prop in the Command line and press Enter to open the Properties panel.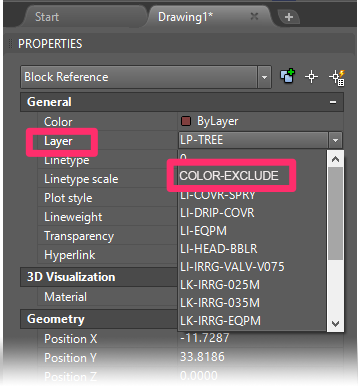 5. In the Properties panel, use the Layer menu to select the COLOR-EXCLUDE layer you created.
The selected plant(s) will be moved to that layer.
6. Follow our instructions to freeze a layer, and freeze the Color-Exclude layer.
7. Run Color Render again. The plant(s) you moved to the new layer will not be colorized.