Issue
You tried to colorize a planting plan using our Color Render tool, and you received an error message beginning with Missing File.
In the Plant Colorization dialog box, you'll likely see a blank rectangle rather than a color symbol above one or more plants in your project.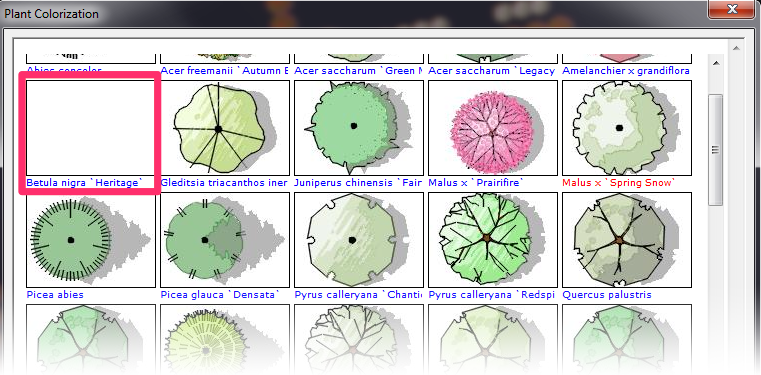 Cause
We've updated the bulk of our Color Render plant symbols and colors. You're most likely working in a Land F/X project that was created prior to this upgrade, and several plants in the project are assigned with old symbols whose symbol files don't exist anymore.
We've also eliminated our color plant blocks that include gradients. So you might see a blank spot in the place of one of these discontinued gradient symbols.
In general, the blank spaces are indicators of plants that have lost their association with an old symbol file.
Solution
To correct the issue, select a new texture and color symbol for each plant that's accompanied by a blank space. Click the white rectangle above each of these plants.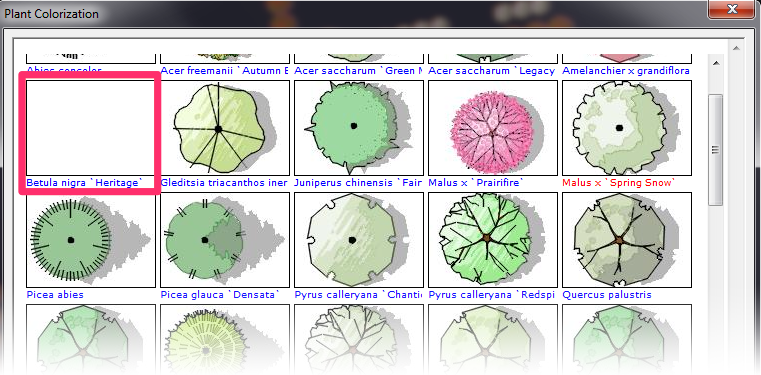 You can then select a new texture and color for each of these plants in the Select Symbol dialog box.