Issue
You want to change the text size in one of your schedules, possibly to change the heights of the rows or the widths of the columns.
This issue can apply to several types of schedules, including:
Plant Schedule
Irrigation Schedule
Site Schedules, including the Reference Notes Schedule
Looking for a way to adjust your schedule column widths manually? See our article on changing the widths of schedule columns.
Solution
1. Open the Table Style Manager:

Manage ribbon, Table Style option
or type
TableStyle
in the Command line
2. In the Table Style Manager, select the table style you need to edit in the Styles section.
For example, your Standard table style may have been modified, requiring you to edit it.
Once you've selected the correct table style, click Modify.
3. The Modify Table Style dialog box will open.
With the Data option selected under Cell Styles, select the Text tab and change the Text height to the appropriate value (example: 0.01).
4. Repeat Step 3 for both the Header and Title options on the Cell Styles menu. (That is, select each of these options and then select the Text tab and change the Text height to the appropriate value.)
If you don't know the correct Text height value for your particular table style, you may need to play around with these values and place a schedule until you have the row and column sizes you want.
5. When finished making your changes, click OK.
6. Then click Close in the Table Style Manager.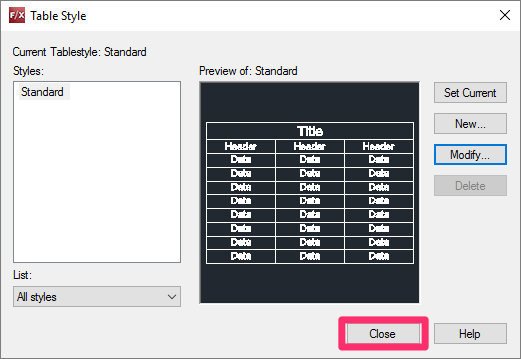 Place another schedule. If the rows or columns still aren't the correct size, repeat these steps, entering new values for the Text height until your schedules are appearing correctly.