FEATURES
An AutoCAD toolset specifically for outdoor lighting designers. Error-free plans on time – every time.
Manufacturer Content
Build an equipment inventory from our rapidly expanding, constantly updated cloud database. Browse listings from the industry's top manufacturers.
From trusted manufacturers to your plan
Select the equipment you need, then lay it out in your site plan – it couldn't be simpler.
Fixtures and Transformers
Choose products from top lighting manufacturers. Dial in your exact needs and preferences.
Fixture Configurations
Choose your finish, color temperature, beamspread, and accessories.
Transformer Selection
Review power rating, protection, and output tap values.
Customize
Choose from an extensive, constantly expanding library of equipment symbols, or use your own. Quickly add notes and other custom options as needed.
Assign Details
Associate your component with a detail, then list that detail in your lighting schedule.
Learn More from the Manufacturer
Quick links to see more information about this product on the manufacturer's website.
Symbols
Access more than 250 lighting symbols (and counting), or use your own.
Fixture Placement
Position your fixtures using all the Land F/X placement tools you love, such as Copy along Polyline, Line, and Arc. IES data displays light throw for direction and distance.
Circuiting
Instantly group fixtures into zones throughout your plan to split up power distribution and ensure balanced power draw.
Wiring
Specify wires by type and gauge, then connect the dots.
Wire Definition
Dial in color and linetype settings for each wire, material, and type.
Wire Information
Select a wire, then view all the data currently assigned to it. Make edits or additions on the fly.
Set Gauge Range
Choose the minimum and maximum wire gauges for your project. During electrical verification, the smallest appropriate gauge is chosen automatically.
Details and Description
Assign details to particular wires, and add any necessary notes.
Check for Errors
Don't risk discovering electrical errors on site. Catch them early with the Verify tool, which highlights and color codes any errors in your layout, allowing you to correct them quickly.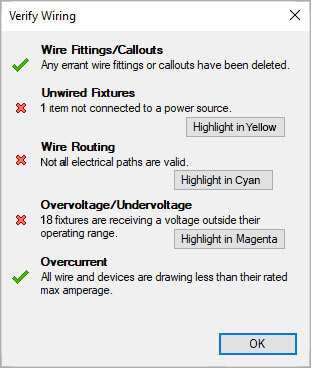 Revisions
See calculated electrical performance for each piece of equipment, and adjust your design as necessary on the spot.
Schedules
With just a few clicks, place a lighting schedule listing all your equipment, including quantities and other data. Configure your schedule to display the data you want, organized how you want.
3D Render
Export your lighting plan to SketchUp in seconds. Your lights will retain their exact positions from your CAD plan. You can use the Twilight plugin for further rendering. Photometric data straight from manufacturers will remain attached to fixtures where available, allowing you to see light throw after installation.
Lighting now available in:
Questions? Give us a call or email!
805-541-1003
sales@landfx.com