Issue
You are unable to export contour lines correctly into SketchUp from CAD using the Send Layer button in the Land F/X SketchUp Connection.
You might be experiencing one of the following issues:
AutoCAD freezes or stalls when you try to import contour lines
The export goes fine, but the lines don't show up when you use the Land F/X Import Layer from CAD tool within SketchUp.
Cause
The Send Layer tool currently limits the export data to several thousand vertices. Contours originating from AutoCAD Civil3D will often contain many thousands of vertices per contour. These types of contours are too data-heavy for this tool.
Solution
1. In your CAD drawing, use the LAYISO command to isolate your contour layers. First, type LAYISO in the Command line. When prompted to select layers, select the contour lines. You can select them one at a time or, if possible, draw a crossing window to select several lines at a time.
2. Use the WBLOCK command to save the contour lines into into their own .dwg file.
3. In SketchUp, open the File menu and select Import.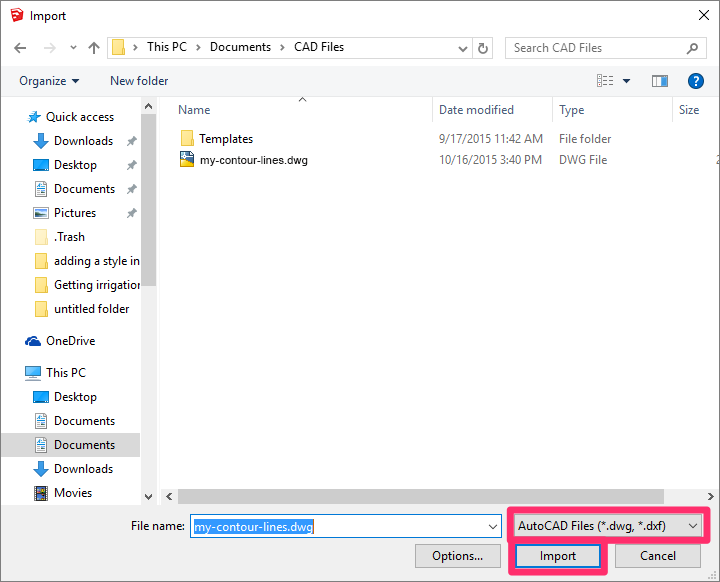 4. Navigate to the location where you saved the contour lines drawing.
Select AutoCAD Files (*.dwg, *.dxf) from the menu to the right of the File Name field (see the image to the left).
Select the contour lines drawing, and click Import.
Your contour lines should now import properly into SketchUp.