Issue
You saw the following error message when attempting to install F/X CAD:
C:\WINDOWS\SYSTEM32\VCOMP110.DLL is either not designed to run on windows or it contains an error.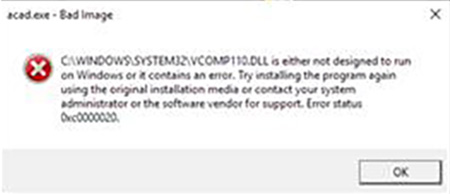 Cause
This error can result from missing files in Windows 8.1 installations, which you'll need to download and repair.
Solution
Download the Visual C++ Redistributable for Visual Studio 2012 Update 4 from the Microsoft Download Center.
Check the boxes next to the following two files:
VSU_4\vcredist_x64.exe
VSU_4\vcredist_x86.exe
Open both files you just downloaded, and click Repair in each of the dialog boxes shown below (one at a time).
Follow the prompts to repair the two files.
You should now be able to install F/X CAD successfully.