Issue
When placing or highlighting plants or Reference Notes (RefNotes), or calling out RefNotes, you are only able to place or highlight the same object repeatedly. The software isn't allowing you to select a new object to place or highlight.
For example, you might have multiple Notation Reference Notes (RefNotes) in your drawing and are trying to call them out. Once you've placed the first callout, calling out other RefNotes places the same code or number as the first one.
This issue may be occurring when you are:
Placing plant symbols
Placing notation, Amenity, or Area/Volume RefNotes
Calling out RefNotes
Using the Highlight feature from either the Plant Manager or the RefNote Manager
Cause
This issue only occurs when you're working within the docked palette version of the Plant Manager or RefNote Manager.
(The image to the right shows the docked versions of the Plant and Reference Note Managers.)
With our docked palettes, you need to end the current Place or Highlight command before starting the next Place or Highlight command.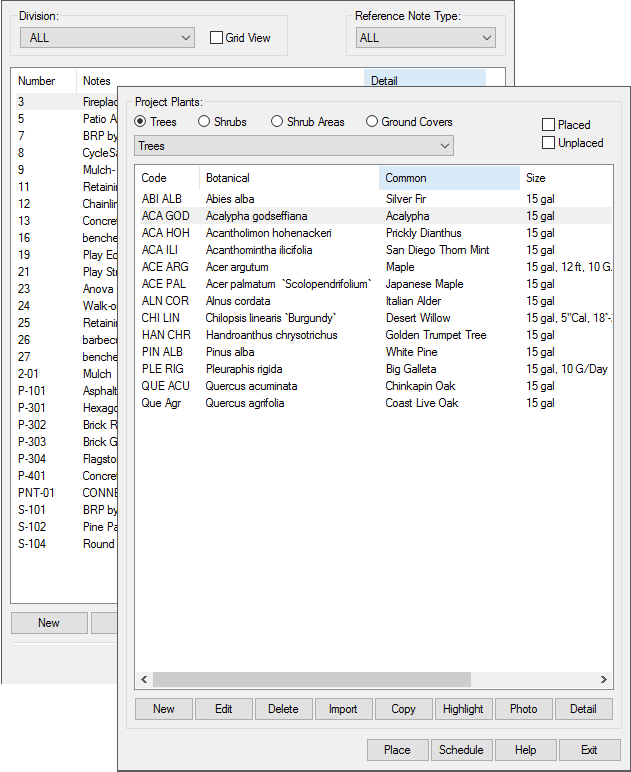 Solution
After placing or highlighting one item, end that command before placing or highlighting the next item. You can end the command by:
Right-clicking
Pressing Enter, or
Pressing the space bar
Once you've ended the first command, you'll be able to place, call out, or highlight the next plant or RefNote.