Land F/X CEO Jeremiah Farmer is very excited to be starting his 9x9 University Tour. Between October 13 and 23, Jeremiah will be visiting 9 universities across the country to talk about Land F/X and how to be smarter drafters. Students will be able to ask questions and get answers straight from the source.
The tour dates and locations for 2015 are:
Tuesday, October 13: Iowa State University - 11:30 a.m. in Room 416
Wednesday, October 14: Ball State University - 11:30 a.m. in AB 202
Thursday, October 15: Texas A&M University - 12:30 p.m. in Studio A300
Friday, October 16: Louisiana State University - 12:00 p.m. in Room 307
Monday October 19: Purdue University - 10:30 a.m. in HORT 222
Tuesday, October 20: University of Florida - 12:45 p.m. in Room 322
Wednesday, October 21: University of Georgia - 5:00 p.m. in JSB 125
Thursday, October 22: Texas Tech University - 2:00 p.m. in Room 114
CASNR Annex Friday, October 23: Utah State University - 12:00 p.m. in the Jury Room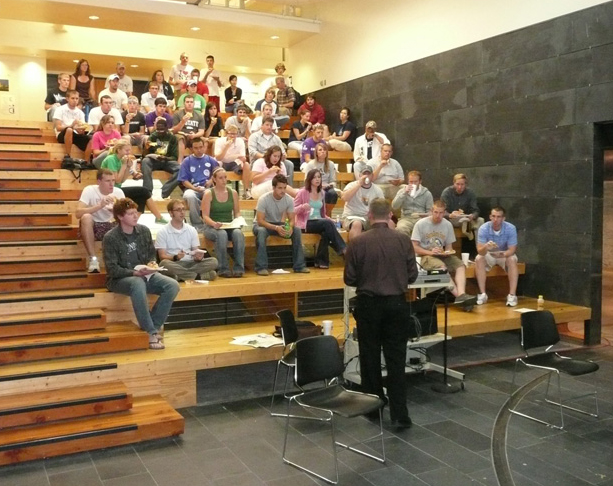 Are you a student or faculty member?
Come join us for a live webinar event on October 28, 2015, at 6 p.m. PDT / 3 p.m. EDT.
We'll go over the basic tools you'll need to know in order to start using Land F/X. This academic project–oriented planting plan workflow will include information on how to start your project, configure the best settings for success, and transport your project and drawings between your laptop and a computer lab installation. We'll also include a Q&A session where you can get answers straight from the Land F/X team on how to solve your drafting issues! This will be the start of a four-part series that will get you on the right track to spend more of your studio time designing than drafting, as well as learn the skills required to put "proficiency in Land F/X" confidently on your resume.
Each session will cover the necessary tools to follow the workflow for a typical type of project that a student will potentially need to complete.
Register now for "Introduction to Land F/X for Students: Session 1"