Our Preferences settings allow you to configure our software quickly to work closer to the way you work. Although we recommend reviewing the Preferences early in the process of using our software, you can make changes to the Preferences at any time.
The Plant Sizes Preferences screen controls the appearance of your Plant Schedule.
Changing a setting in the Preferences does not affect any existing projects. We engineered this preventive measure to keep users from altering the contents of current projects unintentionally. If you make a change in your Preferences and want to apply it to an existing drawing, you'll need to delete and purge any items that would be affected by the new Preferences settings. When you place these items back in the drawing, the new Preferences will be applied.
Do You Work in an Office With Multiple Land F/X Users? Read This First!
Preferences are saved in what's known as a Preference Set. If you work in an office where multiple people use our software with an office server or shared online folder, it's extremely important to realize that your office's Preference Sets are shared by everyone. That means if you make changes to an active Preference Set, you're making those changes for everyone who uses that Preference Set. Before delving into changing your Preferences, make sure you have a good understanding of what Preference Sets are and how they work.
If you're not sure whether you should be making changes to a Preference Set, ask your CAD manager.
Accessing the Preferences Screen

F/X Admin ribbon
Preferences flyout buttons on any of the other F/X ribbons
Several toolbars (FX Admin toolbar pictured)
Any of the F/X pull-down menus
(F/X Admin, F/X Site, F/X Planting, F/X Irrigation, or F/X Details)
or type *FXPreferences in the Command line
The Preferences screen will open. (See image below.)
Plant Sizes Preferences: Overview
The Plant Sizes Preferences screen controls information that will appear in the Plant Schedule and how it will be displayed. These settings allow a great degree of flexibility. You can also add your own individual fields.
1. Make your main plant category selection here. Selecting Tree or Shrub will display subfields. Select the number of columns (ranging from 1 to 6) for the selected type of plant by clicking the Columns pull-down menu. The first field is always what will be displayed in the label.
2. Select the number of columns you want to appear in your Plant Schedules.
3. The number of columns you select above will be the number of available data fields in this area. You can edit the Description and Title of each of these entries to meet your needs. Once you save these data fields, they will be available when you edit plants, and the corresponding columns will appear on your Plant Schedules. Note that you can make different selections and add different fields for each of the four plant categories.
For more information, see our Edit Plant Information page.
4. Category Field Value List: Each of these entries will be unique to each data field you customize above. More information
5. Cost: The default cost for the selected plant size. Individual plants can be assigned a unique cost.
6. Once you've configured all your Preferences, save them into a Preference Set. More Information >
Plant Size List Order
The plant sizes in the category field value list will order themselves by the following parameters (first to last):
Any size containing the word "Flat"
Any size containing the word "Pot"
Any size with a leading number, sorted by the number
Any size with an embedded number, sorted by the string up to the number, and then the number
Any size without a number
Any size containing the word "Box"
We developed this ordering system because a simple alphanumeric sort does not give the best expected results on testing.
Longer size entries will not show in their entirety in the Specifications menu within the Edit Plant dialog box, as pictured to the right.
Take this limitation into consideration when deciding how to organize the values you want available for plant sizes.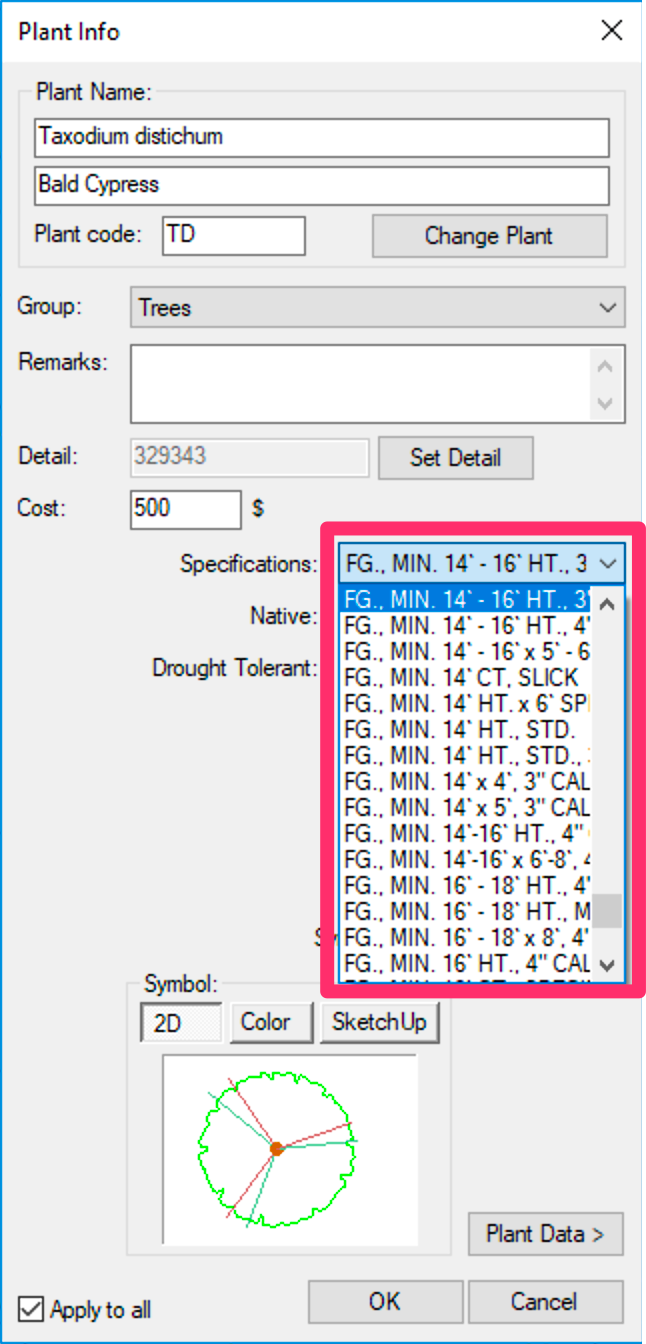 Line Colors and Layers
Do our default line colors conflict with your office standard? Fear not; we offer an easy way to change your line colors to suit your preference. Learn more about customizing your layer and line colors by visiting our Land F/X Layers documentation section.
Saving Your Preferences in a Preference Set
Preferences control the look and feel of your usage of our software to match your office standards. However, some projects may require different preferences, such as those produced for a client whose requirements differ from your office standard. These projects may require different text styles, or callout looks, or schedule setups, different colors, or any of the various items covered in Preferences.
Once you've configured your Preferences, you can save them as a Preference Set. You can create multiple Preference Sets – one for each client, project type, region ... the choice is yours. When starting a job for a particular client, for example, open the Preference Set you've created for that client. Your standards for that client will be applied automatically as you draft.
In all six Preferences screens, the Preference Set options are in the bottom left corner.
For detailed information on creating a Preference Set, see our Preference Sets page.
Other Preferences Categories
Related Webinars
Troubleshooting
Issue: You are unable to open any of the Preferences screens, and your office has our Cloud Data option
Issue: You opened the Preferences, and the buttons and options are grayed out, and you are not able to make changes