If you find yourself adding the same irrigation equipment to multiple projects, we recommend setting up a project template and then adding your commonly used equipment to that template. You can then import individual components into a new project from that template. This practice can save you immeasurable amounts of time, considering all the data you need to fill out for each piece of equipment you add. With templates, you only need to add and configure your irrigation equipment once, then import it – along with all attached data – into the present project.
The steps outlined on this page also apply to importing plants from regular Land F/X projects. However, we recommend setting up and importing from a template – mainly because templates are set up to be read-only. This means you can rest assured that the plant data in your templates hasn't changed when you import your plants into a project.
We've engineered the ability of importing irrigation equipment to save you the hassle of adding the same equipment to multiple projects you might be working on at once. However, keep in mind that manufacturers are constantly updating their catalogs. For example, model numbers change, and certain items are discontinued. Thus, although we are happy to be able to provide the capacity for importing equipment, we caution you to pay close attention to the equipment you choose to import. Make sure you are specifying equipment that has the correct model number and is still being offered by the manufacturer.
Why Import Irrigation Equipment?
Adding irrigation components individually to a project involves a considerable amount of time and effort. It's a process that requires you to cycle through equipment types, manufacturers, model numbers, flow capabilities, etc. While this necessary process gives you full control of your equipment specification, it also involves a series of steps for each component.
That's why we've added the ability to import irrigation components from a template. As long as you stay on top of which equipment is still current, you should have no problem bringing your equipment in using our Import feature. With your equipment specified and configured the way you want it in your template, you'll save plenty of time bringing it in as is to a new project.
A word of caution: In the past, we've disabled the capability of adding irrigation equipment to a project from a template. We found that many users were bringing in their entire inventory of heads, valves, etc., placing them in drawings, and completing their designs only to find that this head or that valve had been renamed, modified, or phased out – a source of a great number of problems down the line. So while we've made it possible to import components by following the steps outlined below, we ask you to remain vigilant when doing so and ensuring that you're bringing in accurately specified equipment.
How to Import Irrigation Equipment>
You can import irrigation equipment using the Irrigation Manager. You can access the Irrigation Manager:
F/X Irrigation ribbon, Irrigation button
F/X Irrigation menu, Irrigation Manager option
Irrigation toolbar
Irrigation Manager toolbar
or type ProjectIrrigation in the Command line
To import equipment into the current project, select one of the four equipment types in the Irrigation Manager (Heads, Valves, Auxiliary Equipment, Drip).
Click Import to import equipment from that type.
You'll need to repeat these steps for each category that includes equipment you want to import into the current project.
The Select Type dialog box will open.
Select a category of equipment within the selected type to import (example: Bubbler).
Then click OK.
The Select Project dialog box will open.
Select the project or template that includes the equipment you want to import.
Click OK.
All equipment from the selected type and category will be imported into the current project, and will be listed in the Irrigation Manager.
To view the symbol and other data assigned to any of the components you've imported, select the component and click Edit.
The Equipment Info dialog box will open. Here, you'll see all the data currently assigned to the component.
Read this data carefully to ensure it's still current. You may also want to compare it with the data in the manufacturer's catalog.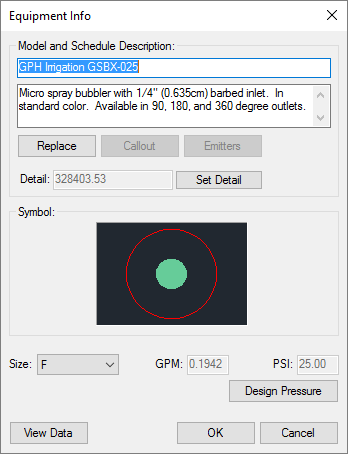 You can make any necessary changes to the selected equipment by following the instructions on our Edit Equipment documentation.
Any changes you make to each component you've imported will apply to the current project, but not to the template or project you sourced when importing the equipment.
Related Webinars
Troubleshooting
Issue: AutoCAD freezes or crashes when you try to import irrigation equipment – and your office is on Cloud Data