With our Circuit tool for lighting, you can divide your lighting plan into circuits, or zones, before you've even wired your fixtures. Each circuit will have its wattage total calculated automatically, giving you a good idea of the power your system will need to provide in each region, and in total.
Before using our Circuit tool for lighting, you'll need to lay out your lighting system using the Lighting Manager.
How to Create Lighting Circuits (Zones)
Open our Lighting tool:
F/X Site ribbon, Lighting flyout
F/X Site menu, Lighting option
GRAPHICS toolbar
Graphics RefNotes toolbar
or type FX_Lighting_Manager in the Command line
The Lighting Manager will open.
Click Circuit to begin defining circuits, or zones, in your lighting plan.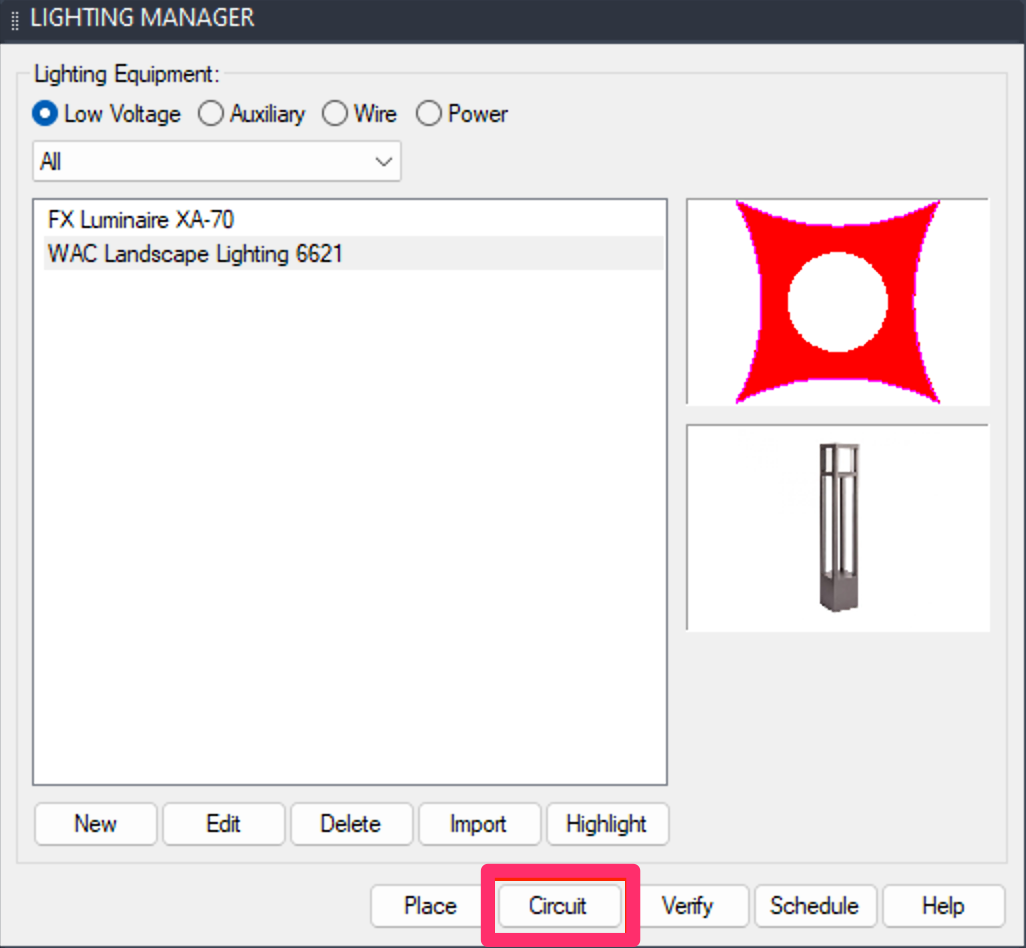 The ZOning Manager will open. Click New to create a new circuit.
Use the cursor crosshairs to draw a closed polygon around the equipment you want to include in your circuit.
In this example, we've created a circuit that includes the four fixtures pictured to the right.
Once you've closed the polygon to create the circuit, you'll see a callout within that circuit showing its total wattage. You can move the callout to the location of your choice.
The circuit will also be listed in the Zoning Manager, along with its wattage.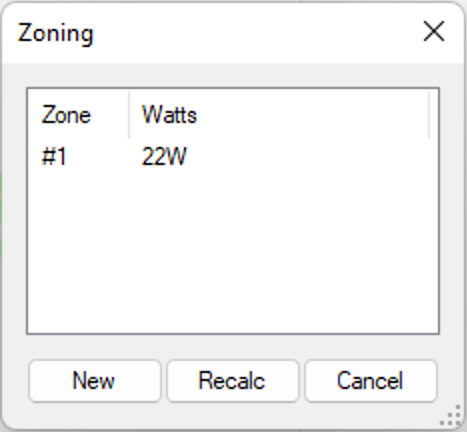 If you've added or deleted equipment within a circuit, you can recalculate that zone's total wattage.
In this example, we've added two fixtures to our existing circuit, but the circuit still shows the original 8 watts in the drawing.
When we open the Zoning Manager, the circuit's new wattage has already been recalculated automatically to show the new total – in this example, 12 watts.
To recalculate the zone's wattage in the circuit callout in the drawing, select the zone and click the Recalc button.
The wattage will be recalculated to the new total in the circuit callout.
Related Webinars
Troubleshooting
Issue: You are unable to send your Lighting Schedule to an Excel spreadsheet
Issue: Error Message when placing lighting equipment: Lighting – Non-photometric lights: Non-photometric lights are not supported by the current render engine
Issue: Bad DXF group (10) error when placing lighting equipment
Issue: Text in the Lighting Schedule columns is overlapping
Issue: Outside Limits error message in the Command line / you are unable to place lighting equipment / can't see lighting equipment in Model Space