Arcadia Studio Inc.
Project: Lotusland Japanese Garden
Credited to: Derrik Eichelberger, Kalie Grubb, and Paul Comstock
Photo credit: Jack Coyer
Landscape architects Arcadia Studio, in partnership with Comstock Landscape Architecture, aspired to make this renovation of Ganna Walska Lotusland Japanese Garden in Montecito, CA, more accessible, improve the garden's overall physical condition, and restore the site's Japanese character while carrying out some of the previously unrealized intentions of the original designers and Ganna Walska herself. Our judges thought this photo, an entry in the Hardscape & Details category, perfectly captured the substantial scope and ambition of the project by displaying a tranquil and thematically unified environ where we could see ourselves whiling away a Zen-like afternoon under a weeping willow tree. We also chose it because a botanical garden/park design is the epitome of landscape architecture, and this photo exemplifies how our built world can exist in a symbiotic relationship with the natural world.
V3 STUDIO BERZUNZA
Project: Newport Beach Residence
Credited to: Vladimir Berzunza
Photo credit: RDM
The walkway may look a little precarious, but some of us like to live on the edge. Speaking of edges, this photo is full of them. Submitted to our Lighting category, this artfully framed photo of improvements to a private residence in Newport Beach, CA, provides an attractive glimpse into the finer side of coastal life. Our judges were particularly impressed by the connection between architecture and landscape architecture in this photo. We couldn't easily tell where the building ends and the landscaping begins, showing that these two don't always have to be separated. The blue water lighting cools down the warmer tones of the stone, and the water's stillness gives the appearance that the glass on the building continues onto the floor plane. Also, you just have to love the organic sculptural centerpiece of this space. The single, well-manicured olive tree is timeless. The lighting of the entry space is perfect. It's unique, it's odd, and we love it.
ELM
Project: Tamaya
Credited to: Mark Pariani
Photo credit: Mark Pariani
Submitted for our Hardscape & Details category, this perfectly executed bird's-eye shot drew us right into a wonderfully eclectic mix of classical and modern landscape architecture at Tamaya, an 800-acre master planned community in Jacksonville Beach, FL. Centering on the Amenity Center, the photo shows a bit of everything – zero-entry lagoon pool and poolside areas, fitness center, playground, athletic facilities, dining areas, and connection to the site's extensive pathway and trail system. Our judges felt that this beautifully composed aerial photograph perfectly captured the vastness of the project.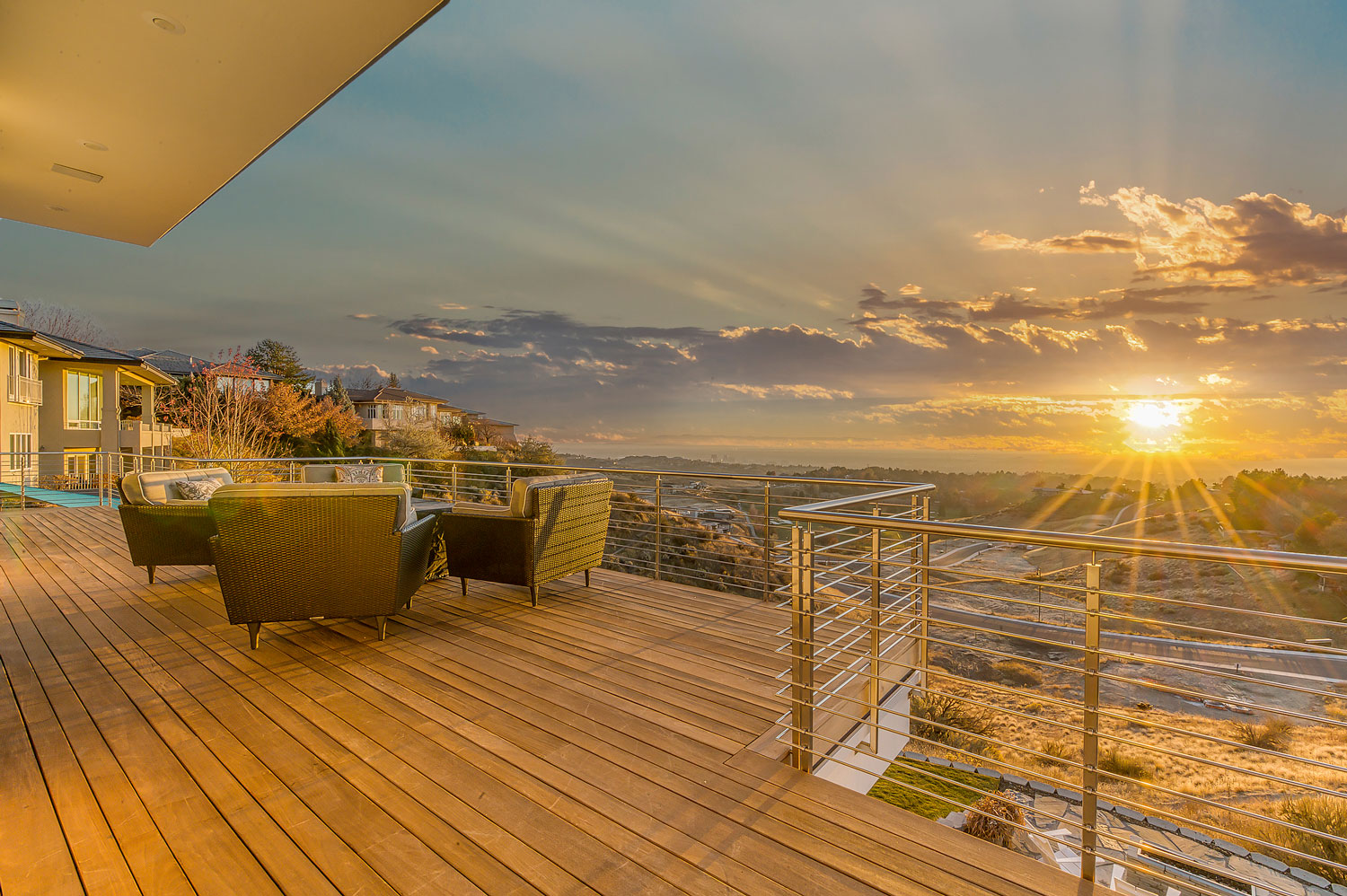 Stack Rock Group
Project: London Residence
Number of votes: 479
From Stack Rock Group: "This project was a complete home remodel, from the inside to the outside. Our client loves to try the new biggest and best things, so we got to take the existing landscape and expand as far as possible. The home had an existing pool, as pictured, but no real patio space since the house is on a steep slope. We used existing walls to create a water feature to the pool, and then were able to expand the patio out past the pool with floating pavers on a steel grid. This part was pretty tricky due to the slope, so we had our landscape contractors on the hill digging the footers by hand, and let me tell you, there are a lot! We love how this project turned out, and our client couldn't be happier with the final result!" And the voters were equally impressed. Congrats and well-deserved win, Stack Rock Group!
All Entries
We had no shortage of great photos submitted this year, and our judges' job wasn't an easy one. Take a look at some of the other great submissions we received.
Thank you to all participants!
We extend our gratitude to all entrants, whose hard work and beautiful designs ensured yet another successful contest. Thank you to all who submitted.
Disclaimer: Photos on this page are copyrighted as noted. Any reproduction without their permission is prohibited.